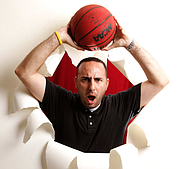 Transcript: Read the latest Gameday Chat with Matt Tait, who previewed KU's home clash with TCU
This chat has already taken place. Read the transcript below.
Moderator
Good afternoon and thanks for stepping inside to check out another Gameday Chat with Matt Tait on this ridiculously nice February day. We'll try to keep it short so those of you following along on your computers instead of your phones can get back outside.
There's a lot to talk about leading up to tonight's game with TCU and it seems like all of it has been covered in the questions you've submitted. So let's dive right in...
Hi Matt! With Brandon Rush getting his jersey retired tonight, who do you think will be the next Jayhawk to get theirs retired? Also, what do you think the odds are of Mason having his jersey retired some day?
February 22, 2017at 8:41 a.m.
Percentage wheel for next KU player to get his jersey retired?
February 22, 2017at 2:09 p.m.
Matt Tait
I like this question a lot and, as you know, am a sucker from percentage wheels so let's answer both accordingly.
There are five names that immediately come to mind when thinking about which KU player will be next to go up in the rafters.
Sherron Collins, Thomas Robinson, Cole Aldrich, Perry Ellis and Frank Mason...
Mason's still playing so it's going to be a while, but I think he'll get there. He's going to wind up being a first-team All-American, might be national player of the year and likely will finish in the Top 10 on KU's all-time scoring list.
Collins, Robinson and Aldrich are no-brainers in my mind.
Collins was a national player of the year according to some, led the team in scoring twice was a big part of that national championship team and ranks fifth on KU's all-time scoring list.
Robinson was a national player of the year and a lottery pick and led the Jayhawks to a Final Four while dominating the Big 12.
And Aldrich, who was a two-time Big 12 defensive player of the year earned academic All-American honors and also was on that national title team.
The one I can't figure out is Ellis, but my gut tells me he'll be up there. Eighth all-time in scoring, two-time first-team all-Big 12, great academics and a bunch of other honors that indicate what a great career he had. It wouldn't surprise me entirely if he doesn't make it, but I think he will.
With that in mind, here's the percentage wheel for who I think is next:
1. Sherron Collins - 77%
2. Thomas Robinson - 12%
3. Cole Aldrich - 10.99%
4. Other - .01%
The reason Mason and Ellis aren't on this list is because there's next to no way they'll go up before the three on the list.
February 22, 2017at 3:44 p.m.
When we played TCU at their place we saw Vladimir Brodziansky have a career night. Do you think KU as a team has grown enough to stop him from having 28 point outburst?
February 22, 2017at 3:40 p.m.
Matt Tait
I do. I'm not sure how much better they've gotten defensively overall but I do think the guys are more comfortable with their roles and what they're asked to do.
With Brodziansky (nice job spelling it out, by the way), the biggest thing that hurt KU was penetration by the guards and TCU's pick-and-roll game. If Mason and Graham can stay with their guys and also be aware of how to use help, it's unlikely Brodziansky will go off again.
KU has been great in that sort of scramble defense late in games here recently so maybe they'll take that mentality into guarding the big fella tonight.
He's talented, though. And he's had some good games against Kansas. I'd expect Vlad to play well tonight but I don't see him going for 28. I'd put it in the 13-18 range.

February 22, 2017at 3:47 p.m.
will there be a link (eventually) for fans to watch the halftime ceremony? we know espn won't show it.
February 22, 2017at 3:29 p.m.
Matt Tait
I'm not aware of anything live but that doesn't mean there won't be. I do know that Bobby Nightengale is planning to record it and post it on our site as soon as he can after Rush is done talking so be sure to check that out later.
February 22, 2017at 3:50 p.m.
Which is more surprising winning 13 in a row or only 1 NC and 2 final fours in those years?
February 22, 2017at 3:37 p.m.
Matt Tait
I think it has to be the 13 in a row. I mean, that's just amazing. The NCAA Tournament is set up as such to where we know how hard it is to win it and we know how hard it is to reach the Final Four and we know how many crazy things happen year after year.
So, as much as it does seem like Self and Kansas should've gotten there more than twice and even maybe should have another title or two, it's not surprising that they don't.
Winning 13 in a row in the Big 12 conference in this era with so many talented players all over the country is nothing short of remarkable.
Most years, it has been clear that KU should and would win it. But the fact that the Jayhawks have been able to pull it out in a few years when it didn't look like they'd be the favorite is what makes it even more impressive.
February 22, 2017at 3:53 p.m.
My opinion: Brandon was the best, guard, defender that Bill has had. Who is your choice? (guard or big) Thanks for your time.
February 22, 2017at 3:41 p.m.
Matt Tait
I definitely think you have a case and there's no denying that Rush was among the best KU defensive players to play under Bill Self.
I think one of the things that made him so impressive as a defender was how easy he made it look. Rush guarded some big time players during his KU career and made many of them absolutely miserable.
As for my answer, I'll give you one of each.
It's such a flip of the coin for best big man defender between Cole Aldrich and Jeff Withey. Both were great. They did similar things. But they did them in different ways. I've always said that Aldrich's goal was to protect the rim, clear the glass and handle his business. Withey wanted to do those same things but he also wanted to demoralize opponents while he did them. So, for me, I liked Withey's tenacious nature and would give him the slight edge for that very reason.
As for the best defensive guard, that's so, so tough because there have been some good ones. And I'd probably go with Rush, to be honest. But because we're trying to make this chat entertaining, I'll throw out the three other names that immediately came to mind and leave it at that... Russell Robinson, Brady Morningstar and Travis Releford.
I suppose I also should mention that Joel Embiid easily would've made the list of best big man defender had it not been for his injury and the fact that he played just 75 percent of one season at Kansas.
Great question, though...
February 22, 2017at 4 p.m.
Where does Frank Mason sit on Bill Self's all-time guard list, including Illinois, Tulsa, and Oral Roberts? Will you throw confetti in the air when KU earns their 13th straight Big XII title tonight? Thoughts on Cozart leaving KU?
February 22, 2017at 10:23 a.m.
Matt Tait
Wow. That's a tough question because there are so many great options, particularly at Kansas. But I'd be shocked if he wasn't at least — AT LEAST — in Self's Top 5.
Sherron Collins is in there, Deron Williams is in there and Dee Brown might be in there, as well. Self also really liked Luther Head, if I recall correctly. And then you've got the other Jayhawks like Mario Chalmers, Russell Robinson, Tyshawn Taylor, Brandon Rush and, of course, Devonte' Graham and tonight's honoree Brandon Rush.
But I'd bet Mason is in the Top 3 or 4 with Collins, Williams the only two sure-fire guys on the same level or ahead of him.
February 22, 2017at 4:04 p.m.
Matt Tait
As for the other questions you asked...
No confetti for me. Everyone's favorite NFL team, the Denver Broncos, is the only team left that I still get that excited about. And, as you probably know, there weren't a lot of confetti-worthy moments for the Broncos this past season.
And, with Cozart, I'm glad he's leaving. For him. I hope he finds somewhere he can play quarterback and I hope he wins a starting job and has an absolute blast. I haven't encountered too many athletes that I've had as much respect for as I do Cozart. The guy went through so much during his time at Kansas, took a beating both on the field and from the fans and critics and never changed who he was or showed that any of it bothered him. He's a true class act and a guy I feel honored to have covered and I wish him nothing but the absolute best in the future, both with football and beyond.
February 22, 2017at 4:08 p.m.
Matt,
Would you rather have 13 straight conference championships or 1 additional national title?
February 22, 2017at 1:59 p.m.
Matt Tait
Tough, tough, tough question... And one that I'm not really sure if there's a right or wrong answer to.
For my money, I'd take the additional national title. In Bill Self's case, that would make it 2 in 14 years and would mean he's winning one every 7 years or so. That's not a bad number.
But the 13 conference titles speaks to consistency and to the fact that, whether you win it all or not, you're always right there in the mix to compete for a national title so that's tough to pass up, as well.
I'd love to hear your thoughts (and everyone else's) in the comments below.
February 22, 2017at 4:11 p.m.
Who will be KU's player of the game tonight? Which player in Bill Self's span has had the biggest impact to get to 13 conference straight titles?
February 22, 2017at 10:24 a.m.
Matt Tait
Player of the game questions are always fun and I think, no matter when you asked me this season, you'd have a hard time getting me to say someone other than Mason, Graham or Jackson.
So with that in mind, I'll go with Jackson tonight. He was terrible in Fort Worth and really let the officiating and TCU's energy take him out of that game. He's so much better now and has been through so many battles and delivered double-double after double-double. I think he gets another one tonight and shoots a great percentage from the floor, maybe 9 of 12 or something like that.
If you're looking for a dark horse, though, I'd go with Lagerald Vick. He played great against TCU the first time, gets up for this game because his buddy Jaylen Fisher was a former AAU teammate of his and has been playing very well in the past week or so.
As for which player has had the biggest impact on the streak, Tom Keegan did a column about this very question last year around this time and he came up with a Top 12 list. Sherron Collins was at the top of that list and it'd be hard to argue that.
Here's the link to that:
http://www2.kusports.com/news/2016/mar/14/ncaa-preview-top-12-ku-players-responsible-confere/
The only thing I'd wonder about that list that might be different is if Mason belongs somewhere on there after this season...
February 22, 2017at 4:23 p.m.
What is our biggest remaining need for our team next year in the 2017 recruiting class? All the talk has been around a signing a PG, but I think signing an additional big man is as important.
February 22, 2017at 3:20 p.m.
Matt Tait
You're definitely right about another big man, but the problem is, what's out there? Most of the top players are spoken for and there aren't a ton of bigs just waiting out there to be signed.
Self easily could go the graduate transfer route to add another big man, but even if he doesn't, KU should have a decent crop next season. Here's a look:
Udoka Azubuike, sophomore
Billy Preston, freshman
Carlton Bragg, junior (as long as he returns)
Mitch Lightfoot, sophomore
Dwight Coleby, senior
After playing this season with 1-1.5 big men for most of the year, having that kind of depth will seem like a luxury.
That's why point guard is the big need right now because you know Mason will be gone and Graham might elect to leave as well. If he does, KU does not have an true point guard waiting in the wings to fill that role. Marcus Garrett has played some, but he'll be a freshman. Malik Newman also could handle the role but he's not a true point.
Whether they land 5-star prospect Trevon Duval or not, KU will be adding another point guard to the 2017 class.
February 22, 2017at 4:27 p.m.
Moderator
Good stuff. We'll call it right there for today and let Matt get up to Allen Fieldhouse for tonight's festivities. Enjoy the game and thanks for all of the great questions. As always, if we didn't get to yours today be sure to fire away again next time.
February 22, 2017at 4:28 p.m.