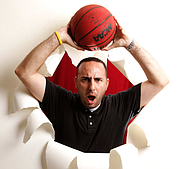 Transcript: Matt Tait's latest Gameday Chat previews KU's Big Monday battle with West Virginia and the Big 12 race
This chat has already taken place. Read the transcript below.
Moderator
Good afternoon KU fans and thanks for logging on to KUsports.com to check out today's Gameday Chat with Matt Tait.
Big game for the Jayhawks tonight, when they host No. 9 West Virginia at Allen Fieldhouse to kick off a week that includes games against two Top 10 teams.
By this time next week we'll have a much better idea of where the Jayhawks stand in their quest to win a 13th consecutive Big 12 title.
Today, though, let's look at the KU-WVU match-up and whatever other questions you guys sent Matt's way. We've got about 45 minutes today because Matt has a couple of radio shows to do after that. So let's jump right in and get to as many questions as we can.

Do you think West Virginia will get called for the touch fouls tonight with a different group of officials or do you feel as though WVU will be able to play the same brand of basketball they regularly do?
February 13, 2017at 3:01 p.m.
Matt Tait
This is always a popular question with the Mountaineers, not just when they play Kansas but when they play anybody.
There's no question that West Virginia's aggressive, pressing style is different than most teams in the Big 12, but I think the Big 12 officials are pretty used to seeing it now and do not do a bad job of remaining consistent.
I don't remember many calls in Morgantown that should've gone KU's way and didn't, so I don't think you'll see a huge change tonight from the way that one was called.
Frank Mason III struggled in that one (6-of-16) but I think a good chunk of his drives to the basket were greeted by good defense and not necessarily rough, unfair physical play.
Having said all that, it definitely won't surprise me if the Jayhawks get a favorable whistle tonight, but I don't think it'll be the result of any extra effort by the officials to keep the Mountaineers under wraps.
February 13, 2017at 3:07 p.m.
Why don't we press them as pressing teams usually don't like to be pressed themselves?
February 13, 2017at 3:04 p.m.
Matt Tait
Another popular question whenever West Virginia comes up (you guys are good!)...
The answer, at least for this Kansas team, has a few parts.
For one, Self has never really liked to press, at least not full-court and not in a way that's similar to what West Virginia does. He's done it from time to time over the years, but mostly prefers a light man pressure, which basically amounts to picking up full-court and playing man-to-man defense for 94 feet instead of 47.
Second, this Kansas team would be doing itself no favors whatsoever if it were to press for a significant portion of the game. All that would do is add unnecessary fatigue and force Self to go deeper onto his bench, which, as you've seen, is not the No. 1 choice for this team. Beyond that, because the Jayhawks don't work on a true press very often it's hard to imagine it being that effective. All it would take is one man to break down in one spot and the whole thing could fall apart.
And therein lies the last part of this answer. While it is a popular theory that pressing teams don't like to be pressed, they do also understand press principles way better than most teams so, unless it came as a total surprise, the team known for pressing may be able to carve apart any press thrown its way.
Time, score and circumstances certainly dictate when these things are called for Kansas, but I wouldn't expect to see the Jayhawks press WVU, or anyone else for that matter, any time soon.
February 13, 2017at 3:12 p.m.
Any word on Mason's status? Is there any indication that illness has been spreading among the team?
February 13, 2017at 12:40 p.m.
any word on how Frank Mason III is feeling?
February 13, 2017at 3:07 p.m.
Matt Tait
Haven't heard anything today, but the Jayhawks did take it easy yesterday and Mason is the best on this team in terms of taking care of his body so you know he worked overtime to put the right nutrition, rest and hydration plan into action to be ready for tonight's game.
He was obviously gassed the other day at Texas Tech, but one thing that leads me to believe that he'll be all right tonight was his demeanor after the game. We didn't get to interview him, but I saw him leave the locker room and walk out to the bus and he did not appear to be exhausted beyond belief or anything like that. He had a pep in his step and looked like a guy who needed a good night's sleep and lots of water and chicken noodle soup to get over his illness.
That could have been because his team came out with a close-call victory and he could've been operating on adrenaline, but I thought he looked OK and I'd expect him to be in good shape tonight and ready for the enormous challenge.
KU better hope he is because it's one thing to beat Tech without him, but it's another thing completely to imagine getting by West Virginia without a good game from Mason.

February 13, 2017at 3:16 p.m.
I don't know if you have caught up with SMU, but what do you think of the job HC Tim Jankovich has done with this years squad? And how dangerous do you think they can be come tourney time?
February 13, 2017at 11:31 a.m.
Matt Tait
I haven't paid too much attention to SMU this season, mostly because I haven't had much time. That's one thing that this job will do to you.... I'm obviously well schooled on what's going on with KU and pretty informed about the rest of the Big 12, but it's tough to keep up with the rest of the country in any way other than reading and watching highlights.
And even those two things don't give you a complete feel for another team.
Maybe that's why I always do so lousy in my March Madness brackets.
Having said all that, I know a little about how Jankovich works and, obviously, know that he learned a lot of what he does as a head coach from Bill Self and Larry Brown. So because of that, I'm not at all surprised by what SMU has done this season and think that good things are ahead for that program.
Back in the day, SMU had some serious glory days and while things are different now, they're also different in a way that could really benefit the ponies and turn them back into a player on the college basketball landscape. Location, surrounding talent and opportunity are certainly there.

February 13, 2017at 3:20 p.m.
Hi Matt. If all the assistant coaches and Andrea Hudy planned on leaving KU and you could only keep one, who would it be and why?
February 13, 2017at 1:08 p.m.
Matt Tait
Wow. Tough question. I have such respect for all of the behind-the-scenes things that the entire KU coaching staff does that it's hard to pick just one, but if I had to — and I'm really feeling your intimidation here — I'd pick Hudy.
I think Norm Roberts, Kurtis Townsend, Jerrance Howard and the rest of the KU basketball support staff all do a fantastic job. That much is obvious. And their commitment to the program, to the players, to this community, and to keeping KU in place as one of the top programs in the nation is a never-ending endeavor that takes a lot of time, effort and sacrifice on their part.
But Hudy is a rock star. And it's not just her ability to build bigger, stronger, faster dudes. It's also the relationships she builds with them, her vast knowledge of the science involved in "creating" elite-level athletes and the fact that she is constantly working and researching new ways to be more efficient and put KU's players in the best position to both succeed on the court and take care of themselves off the court.
She's a blast to interview because you come away feeling smarter and much more informed about whatever it is you were discussing and she's also a blast to clown around with, which shows that she has a nice balance between personality and professional intensity.
She has been a huge part of KU's success and you'd never hear her talk about that or see her seeking credit for it.
They'd all be tough to replace in one way or another — recruiting, practice, understanding of how Self operates, etc., etc., etc. — but being asked to replace Hudy might be the most difficult task of all of them.
Thanks for the interesting question.... Fun to go beyond the court and stat sheet every once in a while.
February 13, 2017at 3:29 p.m.
Moderator
Frank L Saunders III asked via Twitter for Matt's thoughts on the NCAA Bracket Preview...
February 13, 2017at 3:30 p.m.
Matt Tait
First of all, I thought it was cool but unnecessary. If it's done to add buzz and hype to what's coming in four weeks, I don't think it's needed. March Madness is already one of the most popular sporting events in the world.
But people are talking about the preview so maybe their tactic worked.
As for the specifics of the seedings, I thought it was rock solid. I thought KU was placed fairly, I like Villanova as the No. 1 overall (at least as of today) and I think Gonzaga deserves a No. 1 and will deserve one in a month, but probably not the overall No. 1 simply because of their strength of schedule, etc.
The Zags are good, though. I've read enough and seen a little to know that they can play and are dangerous.
The biggest thing that jumped out at me about the 1-16 seeds overall is just how dangerous some of those potential 3 and 4 seeds are... Duke, Kentucky, UCLA, Arizona, West Virginia. Yikes!!!
It's going to be a fun tournament and KU, if it gets a 1 seed or even if it doesn't, is going to be in for a serious battle starting in the Sweet 16.
February 13, 2017at 3:39 p.m.
Moderator
Let's make this next one our last question for the day... Enjoy the game tonight and the week ahead!
February 13, 2017at 3:40 p.m.
Kansas' remaining conference schedule in the hunt for 13: WV here, at Baylor, TCU here, at Texas, OU here, at OSU.
Question. Play devil's advocate. How does Kansas *not* get to number 13, and where--in a hypothetical world--does the WV game play into that scenario?
February 12, 2017at 6:14 p.m.
Matt Tait
Nice, Joe Ross!!! I like it. Another tough one and another one that requires a little extra thinking.
Here goes...
With KU sitting at 10-2, Baylor at 9-3 and WVU at 8-4, it seems that KU would have to lose 5 games for either BU or WVU to have a real shot at winning it. And we're not just talking about sharing here, we're talking about ending KU's streak.
So, for starters, we've gotta find 3 more Kansas losses. Although I wouldn't bet on all three of them being L's, that's really not that hard to do.
1. Tonight vs. No. 9 West Virginia - An easy case can be made for this one, even if it is in Allen Fieldhouse.
2. Saturday at Baylor - Life on the road is never easy and Baylor took KU to the wire at Allen. Again, very easy to imagine Baylor winning this one.
3. March 4 at Oklahoma State - KU hasn't won in Stillwater since 2013 and even that was in OT. Add to that the fact that the Cowboys are playing well, have a dangerous backcourt and are playing for their NCAA Tournament lives and you're looking at another tough, tough game, especially coming on the road.
So if — again, I wouldn't bet on L's in all three of those but could see it — KU drops all three of those games and wins the others (at Texas, home vs. OU and TCU), the Jayhawks would finish 13-5 in Big 12 play.
That means WVU or Baylor would have to finish 14-4 or better to end the streak.
For WVU, that means winning out. And six in a row in the Big 12, with games remaining at Kansas and at Baylor is hard to imagine. But they could do it.
For Baylor, that leaves room for one slip up — home vs. KU or WVU or even tonight at Texas Tech or Feb. 25 at Iowa State. All four are very tough games.
What this tells me is that WVU or Baylor finishing 14-4 is very unlikely so KU may have to actually get to 6 losses for someone else to steal the crown.
And I just can't see that happening. Losing four of the final six to close the season would be unheard of around here and put KU in real bad shape entering the postseason.
Bottom line: I know you asked me to play devil's advocate here, but I'm having a hard time seeing anything other than KU winning it outright or at least sharing with WVU or Baylor based on the way the remaining schedules set up for all three teams.
Great question, though. That was fun. Don't be surprised if you see me turn it into a blog this week!
Thanks for the questions today, everyone. And if we didn't get to yours, please send more again next time.
Enjoy tonight's game!
February 13, 2017at 3:52 p.m.