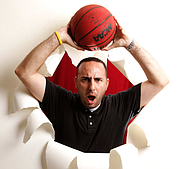 Transcript: Today's Gameday Chat with Matt Tait focused on tonight's massive Big 12 showdown with No. 2 Baylor, 8 p.m. at Allen Fieldhouse.
This chat has already taken place. Read the transcript below.
Moderator
Good afternoon KU fans. And thanks for checking out today's Gameday Chat with Matt Tait. Travel and a couple of weekend games caused a little gap between this one and the last Gameday Chat, but what a great day to get back into it, with No. 2 Baylor and No. 3 Kansas squaring off at Allen Fieldhouse tonight.
We've only got about 40 minutes for this one because Matt has some signing day duties to tend to (how about that KU football class?), so let's jump right in and get to as many questions as we can.
Coaches think that Baylor could end the reign of KU as Big 12 Champions. Do you or any other KU fans, or reporters really think that Scott Drew has turned a corner and won't have a massive let down?
February 1, 2017at 12:29 p.m.
Matt Tait
This is a popular question these days because of Drew's poor record in Allen Fieldhouse (0-9) and Baylor's track record of building talented teams and not quite finishing the job.
Having said that, there has been plenty of talk about this Baylor team and the thing that keeps jumping out that makes it different than teams in the past is the defense.
The Bears have always had athletes and shooters and even big guys, but this group likes to play defense as much as offense and seems to take pride in keeping opponents from scoring. That's where they've won the majority of their games this season and that will be fun to watch tonight, when the high-powered KU offense goes right at that Baylor D.
Regardless of whether this team wins the Big 12 or not, I don't sense that a let down is coming. I think Baylor is for real. They're deep, talented, experienced and should be right there, ready to make a run down the stretch.
February 1, 2017at 1:05 p.m.
Is this the biggest game of the season?
February 1, 2017at 11:10 a.m.
Matt Tait
To steal a line from KU football coach David Beaty, it's the most important game of the season because it's the next one.
OK.... OK.... OK.... Cliches aside, I think it's a HUGE game, but I'm not sure it's the biggest game of the season. That, to me, will come in a couple of weeks, when KU goes TO Baylor to take on the Bears in Waco.
Kansas can lose this game tonight and still have plenty of time left to catch the Bears before season's end. But if they lose that game in Waco (Feb. 18), there will be only four conference games remaining at that point and, with two of them on the road, things get a little tighter.
There's no doubt, though, that tonight is enormous because KU continues to talk about the need to hold serve at home in order to keep the Big 12 streak alive.
February 1, 2017at 1:08 p.m.
I know Self stated before the Kentucky game that the game itself really didn't mean much going forward and I can see where he was coming from. Afterwards, I can't help but think with everything going on with the off the court issues, a win in Rupp Arena against a top caliber team is YYYUUUGE for this team. From a moving forward aspect, as well as momentum going into this matchup with Baylor. Am I alone on this? Don't you think Self had a sigh of relief? Also, how does KU's smaller lineup exploit Baylor's long lineup in the zone? Seems very problematic to me when driving to the basket with smaller guards. As always, thanks for the coverage Matt.
February 1, 2017at 10 a.m.
Matt Tait
I don't think you're alone in that at all. I think the team and Self downplayed it a little bit publicly because of how important Big 12 play is and I also think they believe that's truly what matters.
But winning at Kentucky, short-handed, during a tough week was absolutely enormous for this team's confidence and belief that it can win anywhere any time against anybody. So, yeah; that makes it such a big win, arguably one of the best during Self's time at Kansas, especially on the road.
Kentucky is really, really talented and they're deep and big. In fact, I posted a blog today that points out that the Wildcats are still the Vegas favorite to win it all, even after the loss to KU. That tells you all you need to know about how big that win was but I think it was/is good strategy to keep the focus on the Big 12 race and treat that Kentucky game with a "nothing to lose" mentality.
As for the match-up with Baylor, I think Baylor's zone is tough in that they protect the high post, where Josh Jackson loves to operate, and they have size and length everywhere against the drive.
With that in mind, I think it'll be important for the Jayhawks to look to drive to kick as much as they look to drive to score (if not more), which could make the 3-point shot a big key to tonight's game.
Johnathan Motley can chase athletes around, but it'll be tougher for the 7-footer to do the same. So KU needs to be active in transition and in the half-court in order to take advantage of that smaller lineup.
February 1, 2017at 1:16 p.m.
Will Lagerald Vick play, tonight?
February 1, 2017at 1:14 p.m.
Matt Tait
I haven't heard anything that would suggest he won't. Only thing we know for sure is that Bragg will not. Self guaranteed that on Monday.
February 1, 2017at 1:17 p.m.
A loss tonight would put KU a full game back in the conference race with half the schedule remaining.
I know KU has trailed in past seasons and still pulled it off (during the streak), but I can't remember KU trailing by more than a game and I can't remember how late in the season they trailed. Do you have any data on that?
Thanks!
February 1, 2017at 7:48 a.m.
Matt Tait
Great question and I wish I could keep it all straight.
The season that jumps out at me is that 2012-13 season, when KU tied with K-State for the Big 12 title and had to make up a little ground late to get it done, including by beating the Wildcats to end a 3-game Big 12 losing streak.
Those 3 losses came with just 8 games to play and I can't remember the exact specifics of how big that hole was after that losing streak, but I want to say it might have been 2 games. KU then won 7 of 8 to close the regular season and get the tie. Both KU and K-State lost the final game of Big 12 play that season, which definitely made for some tension in the race.
Two years later (2014-15), that Oubre/Alexander team that lost to Wichita State in the tourney won the Big 12 by one game over very talented Oklahoma and Iowa State teams. I seem to remember thinking that it was destined to come down to KU and OU playing in Norman during the final game of the regular season for all the marbles, but OU slipped along the way and that game, which Kansas lost, did not end up meaning much.
Since winning the Big 12 by a whopping 4 games in 2009-10, KU has won it by 1 game twice and by 2 games three times.
Hard to imagine this season deviating from that pattern, but time will tell.
February 1, 2017at 1:22 p.m.
Hi Matt! I remember coming into the season the common consensus was that Graham, Bragg, and Svi would be going pro after this year. What do you think the likelihood of that happening for each player is at this point, and, if you had to guess a starting lineup for next year with current recruits included, what would it be?
February 1, 2017at 8:10 a.m.
Matt Tait
It's definitely been an interesting season in that department and I think the odds are good (not great) for all three to be back next season, provided Bragg can get his head on straight and stay out of the dog house.
Svi and Graham almost certainly will test the waters prior to declaration day, and they absolutely should. I think there's a good chance that both will find out that coming back would be good for them and I think they will return if they're not getting guaranteed first round type feedback.
Both Tom and I have talked to a handful of scouts throughout the year and it seems like they're thinking all three return. Who knows how much that means, though.
As for the way-too-early starting lineup next year, I'll throw this out there:
G Trae Young
G Devonte' Graham
G Malik Newman
F Billy Preston
F Udoka Azubuike
If that's even close to accurate and if Svi returns, that puts Svi in position to be a terrific 6th man and play a ton of minutes.
If Bragg's back, too, KU will have flexibility to play two bigs or play some more of that four-guard lineup they've enjoyed success with this season. Regardless of who starts, their depth would be much, much better if those three return.
Think about that bench: Svi, Vick, Cunliffe (2nd semester) & Marcus Garrett on the perimeter and Bragg, Lightfoot & Coleby in the front court. Sounds pretty good right about now, huh?
Again, time will tell...
February 1, 2017at 1:30 p.m.
Matt Tait
One more thing about that last answer — that's obviously assuming Young comes to Kansas, but, even if he doesn't, you could see KU plugging Svi into that third guard spot and starting Graham, Newman and Svi and still being OK... That's provided those two come back, of course.
February 1, 2017at 1:32 p.m.
I know both Vick and Bragg are in some trouble... Do you see either of them playing tonight? If not how much zone do you think Self plays tonight to try and keep Lucas out of foul trouble?
February 1, 2017at 1:29 p.m.
Matt Tait
Bragg won't. And, if I had to guess, I'd say Vick will. I'm not sure how effective he'll be, though, with everything that's going on right now.
Having said that, I think KU will play some zone and I think how much depends on how the game plays out. If KU gets a lead and can control the game and dictate the way things go, I think they'll play less zone. But if Baylor gets up early (or big) and Self has to tweak things to get back into it, I think you'll see a lot of different looks defensively...
February 1, 2017at 1:34 p.m.
Shades of 1988, who would be your picks to come over from the football team to add some depth to KU hoops?
February 1, 2017at 9:51 a.m.
Matt Tait
It's funny you ask this question because I just mentioned something about it to Tom the other day....
Top of my list: Montell Cozart. We know he's not going to play QB. We don't know where he will play with the football program. And we also know that he loves to play basketball and had some game. He could — COULD — be an option.
Another option could be tight end Jace Sternberger, 6-foot-4, 236-pound tight end. He played some ball in high school and has the physical body that KU might need. But to think he's anywhere near ready to play for Self and the Jayhawks is quite a reach.
The biggest issue with either guy (and others) is that KU doesn't really need guard help. They need big man depth. And there just aren't many guys on the football roster that would provide that. There are some big bodies, but the thought of any of them transitioning over to help the basketball team seems far-fetched.
February 1, 2017at 1:41 p.m.
Moderator
We'll call it right there and let Matt get to signing day and tonight's game. Thanks for joining us, thanks for all of the questions and if we didn't get to yours today be sure to try again next time.
Enjoy the game. It should be a good one.
February 1, 2017at 1:41 p.m.