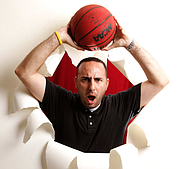 Transcript: Matt Tait's Gameday Chat about KU-UNLV from Las Vegas.
This chat has already taken place. Read the transcript below.
Given the news of Udoka Azubuike, who do you think would be the toughest KU player to replace if he was out for the season?
Matt Tait
Not a ton of questions today because of the late notice on the chat... Sorry about that. The regular preview stuff, traveling to Vegas and the breaking news of Self nominated for the Hall of Fame and Udoka Azubuike being out for the year dominated my time and mind and I spaced out setting it up earlier.
We'll see if any others pop up now that we've started and, if not, I'll throw down a few thoughts about the team and the game and get out of here so you can all finish your Christmas shopping.
As for this question, it's a good one and one KU fans probably don't want to think about right now in the wake of the Udoka news.
I think the answer comes down to two players and I'm a little torn on which way to go. KU's depth in the front court certainly took a hit with the Udoka news so Landen Lucas has to be in the conversation.
He has looked better of late and appears to be headed toward becoming the player he was to end last season. If he is and if he can get there, the Jayhawks will benefit big time because of his size, experience and overall intelligence.
The other one I think you have to consider is Frank Mason III. He's the guy that makes this team go and, in addition to being the leading scorer and among the best players in the country right now, his role is so valuable on this team because of what it allows Devonte' Graham and Josh Jackson to do.
Losing either of those guys would be detrimental, as well, but there are players in place who could step in for them. I'm not sure KU has a guy who could step in for Mason. Graham is certainly talented enough but moving him to the point and putting all of that pressure on his shoulders to handle the ball, run the team, score, defend the other team's best player, etc., etc., etc. would be a lot to ask of anybody.
So, to sum it up, I'd say it's probably Mason first and then Lucas. If Azubuike were not done for the year, I'd put Jackson in Lucas' place here but since Azubuike is done, Lucas has to be in the Top 2.

December 22, 2016at 1:12 p.m.
We were seeing a gradual improvement from our 4 and 5 position players. Conference games are next up. Will we drop an extra game getting Dwight or Mitch up to speed and can we lose 4 games and still get number 13?
December 22, 2016at 1:05 p.m.
Matt Tait
Two really good questions in there. Thanks for stopping by!
First off, Bill Self is so competitive that I don't think he'd ever intentionally do anything that might jeopardize his team's chances of winning a game even if it's in the best interest of the team in the long term. That's why you see Self keep his first-string guys on the floor so late into games that are seemingly decided.
Having said that, Self has shown this year (better than any year before, in my opinion) that he is willing to adjust and do whatever he has to do to put the team in the best position to win now and later. I don't think you'll see a situation where he'll play Lightfoot or Coleby 25-30 minutes just to force the issue of getting them some experience, but I do think he'll be more willing to get those two on the floor whenever the situation presents itself, perhaps even in the first half of some important games.
It's not just about foul trouble, it's also about fatigue. If Lucas and Bragg stay out of foul trouble, they're both capable of playing 30+ minutes per game. But neither has had anywhere near that kind of workload so far this season and giving it to them now could create the risk of wearing them down in the long term.
Lightfoot and Coleby are not Azubuike. But they don't have to be. They just have to be available for 5-10 minutes per game and be willing to play within themselves and not try to do too much. I think they're both up for the challenge and, given the situation, I think both could become pleasant surprises during the next few weeks.

December 22, 2016at 1:17 p.m.
I'm thinking we are getting kind of thin. No one can do what Jackson does if moving out of their current role into his.
December 22, 2016at 1:14 p.m.
Matt Tait
That's absolutely true. And it's not even close.
But at least in terms of size and length and, to some degree, athleticism, guys like Svi and Vick can fill in there if Jackson has to rest or play big or move into a ball-handling role a little more.
Self has talked a lot about Jackson's versatility and how he believes the talented freshman still has more to give. The Azubuike injury might allow us to see some of that sooner rather than later.
I'm not saying Jackson's going to play the 5, but I do think it will inspire Self and his staff to brainstorm any and all ways to use him that they can possibly think of and I'm guessing they'll come up with something really cool that we don't even know about yet.... [said as Will Ferrell's Frank The Tank character in Old School]
December 22, 2016at 1:21 p.m.
Since it's dominating headlines, thoughts on Grayson Allen?
December 22, 2016at 1:16 p.m.
Matt Tait
It absolutely is. And with good reason.
If this were a first-time deal, I think it would be long behind us by now. But it's not and that's the big issue.
Add to that the way Coach K initially handled the situation and I think that's why you've got a bunch of people fired up.
I was particularly impressed by the comments made by ESPN analyst Jay Williams (a former Duke player himself), who blasted Allen and even went after Coach K a little bit in his reaction. It was good stuff. And it was necessary. There's absolutely no place in the game — or any sport for that matter — for this kind of behavior and for repeat offenders.
I'm all for players playing hard and with passion. But hundreds of guys do that every day without taking cheap shots. So you're not going to convince me that Grayson Allen is some kind of super competitor who's a level above all those other guys.
He needs to get it in check and in a hurry or else it's going to cost him some money in the future.
I definitely think he will, but the fact that this is a repeat offense has me wondering if that's the case.
December 22, 2016at 1:24 p.m.
Matt Tait
We'll give it a few minutes to see if a few more questions show up and then call it. Sorry again for the late notice.
A few things I've learned about tonight's game since arriving here in Vegas:
• It sounds like it's going to be a pro-KU crowd tonight and the Jayhawk fans may actually outnumber Rebels fans. Thomas & Mack holds 18,500 and I talked to a few guys who are expecting 10,000 people tonight with 6,000 being Jayhawks and the other 4,000 being locals. That bodes well for KU in many ways but may not give Self and company a true read on how this team will handle a true road environment because it might not actually be that. Even if it's not, though, the experience of traveling out here, staying in a hotel, and all of that typical road game stuff should prove beneficial to the young guys.
• It sounds like the Rebels may even be more short-handed than we already knew, with one or two regulars possibly not playing tonight. I didn't get complete confirmation on that, but I did hear some talk about them being down a man or two, which would only help KU's chances of jumping all over UNLV from the jump. Add to that the fact that head coach Marvin Menzies fields a team of newcomers and is in his first year trying to rebuild this program and you're looking at a team in a little bit of turmoil. I like Menzies, though, and think, in time, he'll get it going here. Tough place to do it, though.
• It's absolutely crazy to think that this KU team is all of a sudden 7 deep. You've got your projected starting five (Mason, Graham, Jackson, Svi & Lucas) and then Vick and Bragg off the bench. After that it's Coleby and Lightfoot. Crazy stuff for a team that looked deep and loaded just a few months ago. Tonight will give us a good look at how Self plans to handle that and comes at a good time, given the fact that KU's next game is not until Dec. 30.
December 22, 2016at 1:32 p.m.
Matt Tait
All right. That'll do for today. Sorry for the late notice on the chat and thanks for stopping by.
Check out our coverage from tonight's game — Tom Keegan, Nick Krug and me will be at Thomas & Mack — and enjoy the last non-con game of the season before Big 12 play heats up a week from tomorrow.
Happy Holidays to each and every one of you and thanks for all you do to make KUsports.com such a great KU community. It's more appreciated than you know.
Have a great day and enjoy the game!
December 22, 2016at 1:42 p.m.