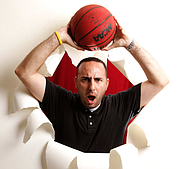 Read the transcript from today's Gameday Chat with Matt Tait, who talked KU-UMKC as Bill Self goes for win No. 600.
This chat has already taken place. Read the transcript below.
Moderator
Good afternoon KU fans and thanks for checking out another Gameday Chat with Matt Tait, who's here to preview tonight's Kansas-UMKC showdown in which KU coach Bill Self will be going for win No. 600 in his career.
Matt has to do a radio show at 4:00 so we'll get right to it and get to as many questions as we can before the call comes.
Thanks for hanging out and for all the great questions!
Hey Matt, thanks again for doing the Gameday Chat! It's always fun to read through it and see the all of the discussions.
My question is: If the slow start for our bigs continues into the mid-season point, how long do you think our guards can compensate for their non-production? With games like tonight vs. UMKC or even past games vs. LBSU, UNC Ash, etc., we've come in of course the favorite, but with the guards doing most of the work and with the tougher part of our schedule coming in hot, do you think they can keep it up if our bigs don't get back on track here soon?
December 6, 2016at 10:12 a.m.
Matt Tait
Hey Caden - Glad you enjoy them and thanks for the question. Keep 'em coming!
And I love your question because I think it's the most intriguing thing surrounding this team right now.
Night in and night out you kind of know what you're going to get from Mason, Graham and even Jackson. But the bigs are a mystery and they definitely need to find their groove sooner rather than later.
If Self were still trying to force the issue by playing a couple of bigs who were struggling to produce, I'd say you should be worried. But since Self has adjusted his approach, too, and appears (at least for now) to be fairly comfortable playing four guards then I think this is a situation than can last for a long time.
Two reasons.
1. The longer they play this way the more comfortable the team will be that that is their identity, bigs included. Those guys will start to settle in more to the role of supporting cast instead of front line guys and going away from it could wind up being disruptive.
2. The game is getting smaller and you're finding more teams with the make-up of KU's — a bunch of talented guards and one or two serviceable big men.
KU's big men certainly have the potential to be much more than serviceable, and that's what makes it important for them to get going. But if they don't, or even if it takes a while, I think KU can get by for quite some time because of the talent of its backcourt and the way the game is now being played.
December 6, 2016at 3:15 p.m.
How long do you think Dok will be starting over Landen?
December 6, 2016at 3:06 p.m.
Matt Tait
Good one to follow up that first question win and good job with the spelling of Dok. I prefer, for some reason, to add the apostrophe before it — 'Dok — but I like Dok better than Doke or Doak or any number of the other spellings I've seen.
As for your question, I think that Dec. 30 game at TCU is a game to watch.
Self said yesterday that this team is going to really benefit from some actual practice time in the next few weeks, as the schedule slows down and winter break arrives.
That stretch will give Azubuike the opportunity to (a) take the next step forward in his development and prove he's capable of being an absolute beast as soon as this season or (b) to show Self that he's going to be a niche guy who plays a role this season but isn't quite ready to be an elite player.
If he makes good on option A, I could easily see him entering conference play as the starter, especially if KU continues to play at a high level with the current lineup.
If he leans toward option B, and if Lucas continues to find himself a little bit, then I think Lucas will be back in the starting lineup and Azubuike will return to the bench.
Remember, conference play is where it really starts to count and, as the season moves on, it becomes much more about trust with Self.
Sure should be interesting to watch.
December 6, 2016at 3:21 p.m.
We know Devonte was a Tarheels fan growing up, how many of the current players on the roster do you think were Jayhawk fans before coming to campus? How much do you think that plays into recruiting?
December 6, 2016at 12:44 p.m.
Matt Tait
Interesting question.
I definitely think it COULD play into recruiting some, in the sense that there are some guys out there who always dreamed of being Jayhawks and couldn't imagine themselves going elsewhere or something like that, but I don't think it plays that big of a role in recruiting that often, mostly because Self is able and willing to go all over the country to get his guys.
Without asking 'em or remembering if they've said it in the past, it's hard to know exactly who grew up rooting for what teams. But I don't think there are many childhood KU fans on this roster.
Think about it. Svi, Udoka, Coleby and even Lucas grew up in other countries. That's almost half of the rotation right there.
I recall that Lightfoot grew up a KU fan because of family ties and Tyler Self, Tucker Vang and Clay Young probably all did, as well, given the fact that they're Kansas kids. But that might be about it.
I can't imagine Bragg, Mason or Jackson grew up Jayhawks, but it's definitely possible that they liked watching KU. A big part of that is the players on the team when they were growing up and with guys like Thomas Robinson, Tyshawn Taylor, Andrew Wiggins and Ben McLemore both playing well while at Kansas and going on to the NBA, it's easy to see how someone would develop a liking for a certain school or style.
But I don't think there are too many born and bred Jayhawks on this roster.
December 6, 2016at 3:28 p.m.
Do you think that we are having trouble recruiting a big man this year because the recruits know that Dok will be back next year?
December 6, 2016at 3:28 p.m.
Matt Tait
I'm not exactly sure what happened with DeAndre Ayton. It sure seemed like he was Kansas bound but Arizona closed the deal.
Other than that, though, KU hasn't done that poorly in the 2017 class with big men. Billy Preston is a star in waiting and he could wind up being one of the more talented forwards Self has ever coached/recruited.
Sure, a couple of other guys in the Top 40 or 50 chose to go elsewhere, but landing Preston was a major get for Self and it puts this class right on pace to being both a top class and well rounded.
I suppose it's possible that Azubuike being here has some sort of impact (not that him being here's a bad thing) but I also could guys loving his size and wanting to play next to him.
Time will tell how it all shakes out, but I haven't heard much in the way of Udoka being a detriment to KU's recruiting.
December 6, 2016at 3:33 p.m.
Baylor is on fire, but we've seen Baylor do similar things in the non-conference in years past before getting exposed (relatively speaking) in Big XII play.
What is something, or different about this Baylor squad to help me believe it's a legitimate threat to ending KU's Big XII streak?
Also, what is something about Baylor to help ease my anxieties that Baylor is not a legitimate threat to ending KU's Big XII streak?
December 6, 2016at 9:23 a.m.
Matt Tait
Fewr
December 6, 2016at 3:43 p.m.
Matt Tait
Sorry. Having some technical issues.... Here's the real answer.
Great question and how about those Baylor Bears! 8-0 and ranked No. 4 in the country. Heck of a start. A quick look at their schedule shows that they should be 12-0 entering Big 12 play, which should make things fun even though KU and BU don't play each other until February.
As for your questions... Here goes:
1. Baylor is playing defense. The Bears are still an exciting, wide-open offense, but Scott Drew has convinced this team that it has to guard if it wants to win big. And win big the Bears are doing. BU is holding opponents to a .381 FG percentage, out-rebounding them by 5 a game and also has nearly doubled up its opponents in steals and blocks. And these are good opponents we're talking about, ranked teams with big time coaches. The offense is there but the defense has been the key.
2. In the last 10 years, during which Baylor has had some pretty good teams and players, the Bears have finished second in the Big 12 just one time and that was in 2009-10 when they tied with K-State at 11-5 while KU won the league at 15-1. That stat surprised me and makes me think that the more things change, the more they stay the same and Baylor, improved or not strong defense or otherwise, may be that team that's just destined to shoot itself in the foot a time or two over the course of an 18-game conference schedule.
Time will tell, but it's great for the Big 12 and, ultimately, for Kansas to see BU get off to such a terrific start.
December 6, 2016at 3:48 p.m.
Moderator
With 4:00 fast approaching, we'll end it with one more. Thanks again for the great questions and your participation and, again, if we didn't get to your question today please be sure to check back next time.
Thanks so much and enjoy tonight's game!
December 6, 2016at 3:50 p.m.
Hi Matt! If Self decided to leave KU after this season (insert imaginary situation), which coaches would you want to see interviewed/picked as the next coach at KU?
December 6, 2016at 11:29 a.m.
Matt Tait
Wow. This is a tough one and one that is constantly changing... The good news for KU fans is this: I really don't think Self wants to go anywhere any time soon. That could change, of course, but he seems very happy here and, more importantly, still feels like he has a lot to accomplish at Kansas.
Having said that, this very topic is something we've talked about plenty on road trips and in the office and it's always interesting and, as I mentioned, ever-changing.
Off the top of my head and in the interest of firing off a quick answer for the sake of time, here are a few names and a quick blurb on each that I think Kansas would be wise to consider....
Jay Wright, Villanova — He probably wouldn't come and I wouldn't blame him if he didn't, but you've gotta make the call.
Gregg Marshall, Wichita State — Forget the rivalry with Wichita State, if Marshall were on KU's side Jayhawk fans would love him. Beyond that, the man can flat-out coach. Recruiting remains a question with him, but giving him an opportunity to recruit to Kansas, where elite players line up to visit would alleviate some of those concerns.
Tony Bennett, Virginia — Young, charismatic, tough-minded coach who demands a lot out of his players and gets pretty consistent results year after year. He's a vastly underrated coach, in my opinion.
Fred Hoiberg, Chicago Bulls — It might seem crazy, but why not? The man can coach, he may not be loving the NBA enough to stay in it for life, has a great deal of respect and admiration for the KU program and knows what it takes to win and recruit to the Big 12. He'd be a home run in the eyes of the fans, too. They would instantly love him.

Mark Turgeon, Maryland; Tad Boyle, Colorado; and Danny Manning, Wake Forest — You know there would be a couple of former Jayhawks on the list and Turgeon has earned the right to be at the top of the list, along with Boyle and Manning, probably in that order. For my money, Boyle is former Jayhawk I'd start with, but there may be others who emerge in time.
December 6, 2016at 3:59 p.m.