Fresh faces: Go behind the scenes as Nick Krug explains one of his recent photos
A "sportrait" as you can probably guess is a fun little nickname the photo world has given to certain portraits of athletes. Not all portraits of athletes are "sportraits" and not all "sportraits" are of athletes because some of them involve NASCAR drivers. Kidding.......kinda. The term most properly identifies a style of portraiture that you commonly find with athletes. When I say this I'm talking about dramatically-lit scenes reminiscent of the bright lights of the field or arena. Then there's the player, holding his or her respective ball, bat or device and leering down into the camera with the intensity that only a true competitor can muster. If words don't suffice just imagine what Rambo might look like clutching a football to his side rather than a machine gun.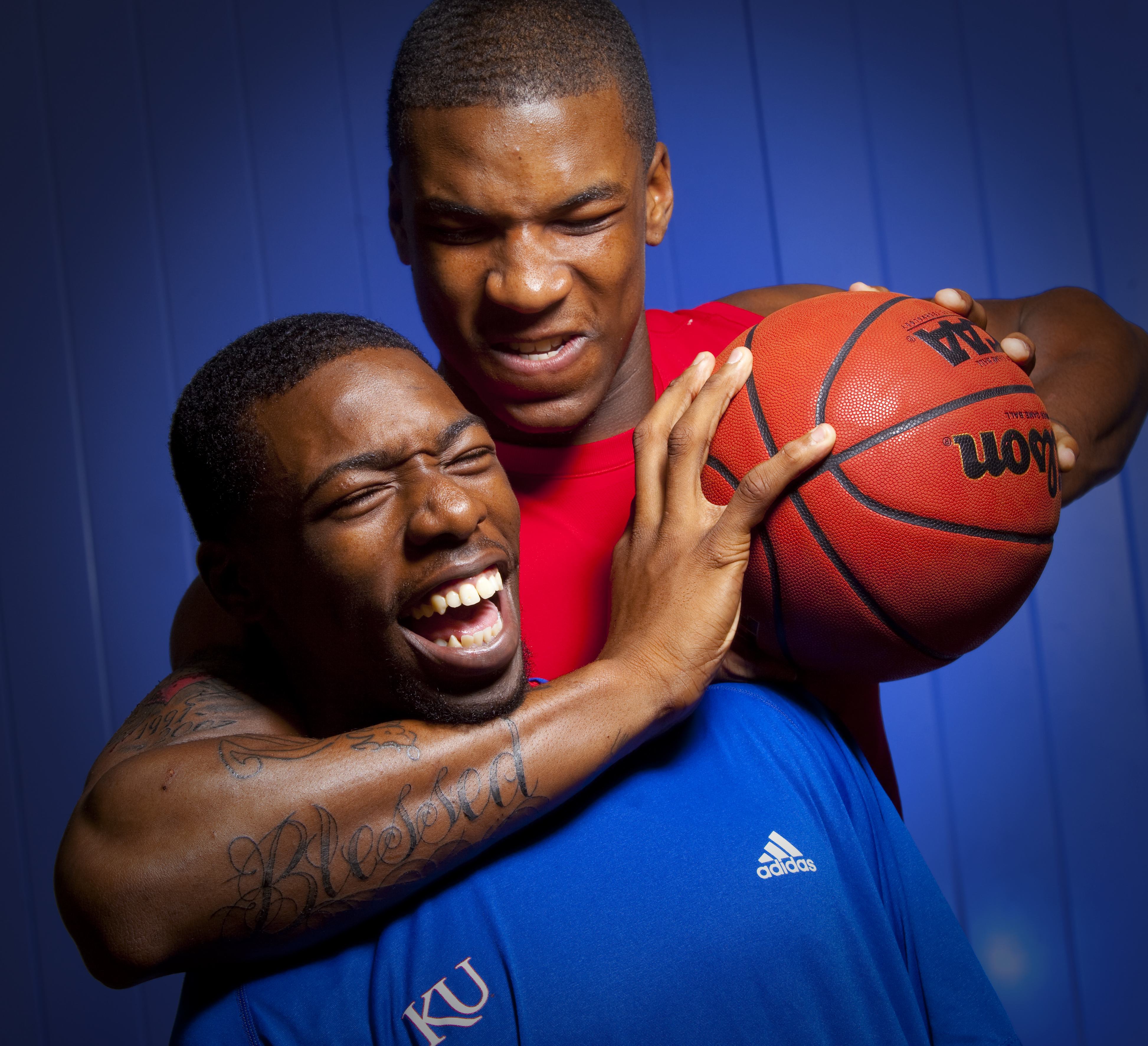 Usually when these photo sessions occur I've spent about two hours preparing the lights for a shoot that can last all of a minute and a half. Needless to say there's not a whole lotta "How you like the food at Mrs. E's?" going on. It's pretty much "Hello." "How are ya?" "I'm so and so and I'm here to do such and such." The strobes pop a couple of times. We shake hands. They're out the door and I start untangling wires and turning off lights. To their credit, a few minutes isn't enough time to really get to know a person to the point that you one, trust them enough to let down your guard, and two, feel comfortable enough with them shooting your portrait for tens of thousands of people to see.
All this considered, imagine my surprise when Elijah Johnson and Thomas Robinson stroll inside the Horejsi Center with smiles on their faces, poking fun at each and most importantly, relaxed. Bedore was doing a feature story on the two of them being newbies, roommates and good friends. We started out with the all too familiar and predictable back to back pose and it just didn't have a feel like it was going anywhere. Now in the past I've suggested a less serious approach and it's fallen flat because I hadn't built up enough of a rapport or because the player didn't want to be seen any way other than dominant. With these two, once I told them about the story, they started with headlocks and transitioned to noogies with ease.
What stood out to me is that unlike most of these situations the two walked in with smiles and became animated and active participants. I know that the traditional image of confidence is standing tall, chin raised with a tight jaw, but the more I work around athletes the more I believe it's best expressed by the ability to simply let loose.