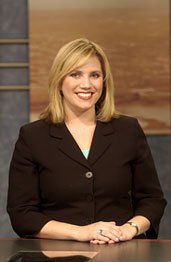 At what moment did you realize you wanted to become a journalist (videographer, meteorologist, sports reporter, etc.)? And if there wasn't a specific point in time, what was the motivating factor?
In high school, I was accidentally enrolled in a Speech and Communications class. By the end of the semester, I had found a new skill and realized what I wanted to do with the rest of my life.
When you really want to relax and let your hair down in Lawrence, where do you go and what do you do?
I love Downtown Lawrence. Massachusetts Street has such a great atmosphere. It's great to live in a city with a lively downtown area!
What comes to your mind as the most memorable local story you've covered?
It's a toss up between the story about a local woman who had all of her food stolen out of her fridge the day before Thanksgiving and the story about the man who lead police on a pursuit through a golf course.
If you couldn't be a reporter, what occupation would you want to try?
I would be a teacher.
Which two people do you admire most? One should be someone you know. The other, someone you've never met.
My Grandparents. They have all been through so much and are the most loving and generous people I know.
If you were stranded on a deserted island with only one song to listen to and one book to read for the duration, what would they be?
Clay Aiken's "Bridge Over Troubled Water" and Gone With the Wind.
If they were going to execute you tomorrow, rightly or wrongly, what would your last meal consist of?
My dad's barbequed salmon.
Recent Stories
(Updated Wednesday at 6:41 p.m.) About 100 of Kansas University students were briefly evacuated from Allen Fieldhouse this afternoon after smoke filled the building.
Roma Kennedy summed up the Kansas Jayhawks' loss to Georgia Tech on Sunday afternoon with three words. "We was robbed," the 80-year-old said moments after the game ended.