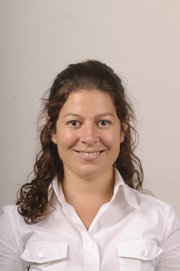 Erin Castaneda grew up making several moves in a military family before landing in Topeka in 1998. She moved to Lawrence later to attend Kansas University where she earned degrees in English and journalism in May 2007.
During her college career she had the opportunity to work with the Lawrence Journal-World.
In the summer of 2006 she was in an environmental reporting course that produced the "What We Drink" series published in the Lawrence Journal-World.
The following spring she worked as a city desk new intern for the paper through a community journalism course.
After graduation Erin began working full-time as the general assignment and night law enforcement reporter.
She enjoys the variety and spontaneity of the beat and interacting with people in the community.
Without a pen, pad, camera or recorder in hand, Erin can be spotted running around outdoors with her black Labrador, taking photos, biking or spending time with friends.
Erin also enjoys the bragging rights that come with being a KU alumna after the Jayhawks won the 2008 National Championship.
Recent Stories