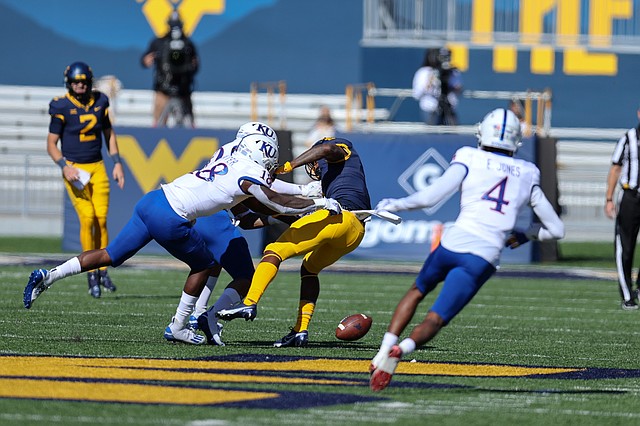 MORGANTOWN, WV - OCTOBER 17: West Virginia Mountaineers wide receiver T.J. Simmons (1) fumbles lbles after bring hit by Kansas Jayhawks linebacker Denzel Feaster (18) after catching a pass during the first quarter of the college football game between the Kansas Jayhawks and the West Virginia Mountaineers on October 17, 2020, at Mountaineer Field at Milan Puskar Stadium in Morgantown, WV.
Stories this photo appears in:

Make it nine Kansas football seniors who hope to finish their college careers playing on greener turfs.

When the Kansas football team travels to face No. 19 Oklahoma this week, it will be without Denzel Feaster, one of its starting linebackers, for a second week in a row.

Despite another poor showing for the KU offense, the Jayhawks remained within striking distance of the Mountaineers late into the third quarter, thanks to the efforts of the KU defense.