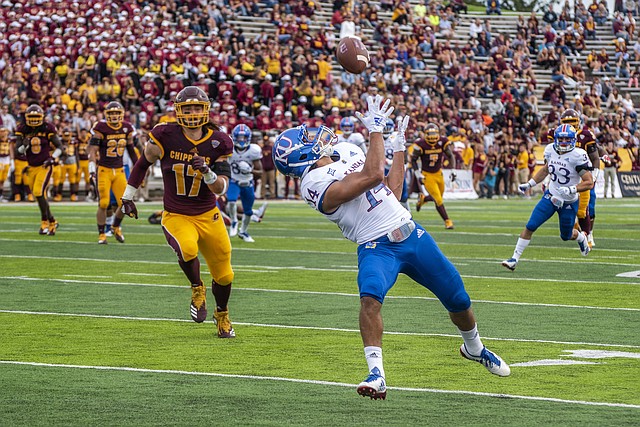 Kansas senior receiver Kerr Johnson Jr. catches a touchdown pass during the first half against Central Michigan on Saturday, Sept. 8, 2018 at Kelly/Shorts Stadium in Mount Pleasant, Mich.
Stories this photo appears in:

Around the Kansas football team's facilities it's easy for Kerr Johnson Jr. to go unnoticed. The senior receiver's head coach, David Beaty, jokes he sometimes needs to hold a mirror under Johnson's nose to ensure the calm and quiet California native is in fact alive. No such concerns exist when the 5-foot-11, 193-pound Johnson is running routes for the Jayhawks. By Benton Smith

The streak is over. After an overtime loss in the season opener, the University of Kansas football team ended its infamous losing skid on the road with 31-7 victory at Central Michigan Saturday. The Jayhawks (1-1) had dropped the previous 46 straight road games, which was the longest such streak in college football.
September 8, 2018 5:10 p.m.