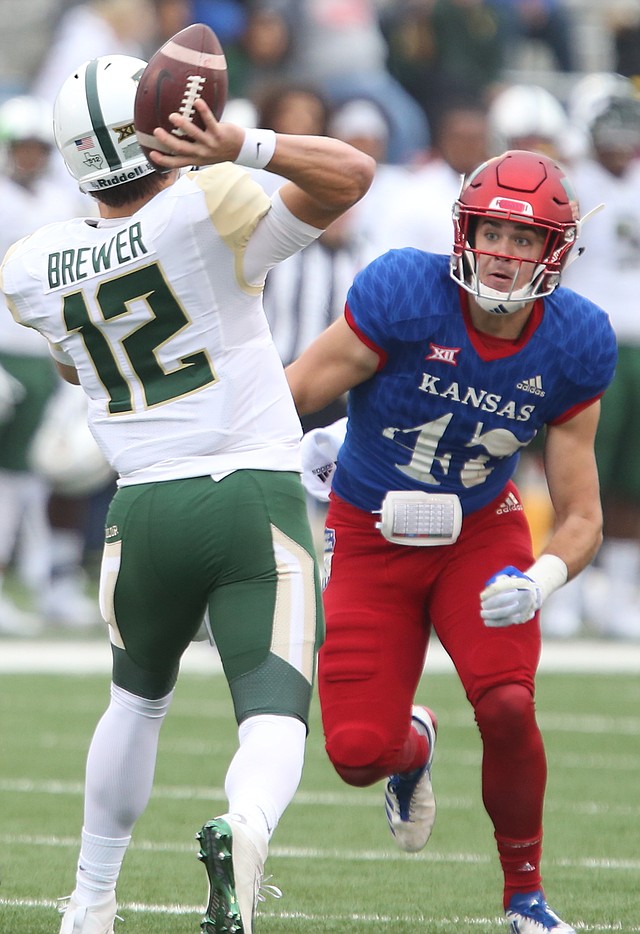 Kansas linebacker Keith Loneker Jr. (47) eyes Baylor quarterback Charlie Brewer (12) during the first quarter on Saturday, Sept. 4, 2017 at Memorial Stadium.
Stories this photo appears in:

Sure, Baylor remains in the early stages of a massive rebuild, finished ninth in the Big 12 in 2017 and was picked in the preseason poll to again land next to last (also known as one spot better than KU). Nevertheless, the Bears (2-1) are easily the best team Kansas has faced this season. By Benton Smith

For as long as they can remember, University of Kansas senior linebackers Joe Dineen and Keith Loneker Jr. have been inseparable. Loneker, who is 20 days older than Dineen, have been lifelong friends due to their parents' connection. Dineen was the only person at Loneker's first birthday, and there is a photo of them in diapers together. They both played for the same pop warner team when they first started playing football in the second grade.
August 26, 2018 11:52 p.m.