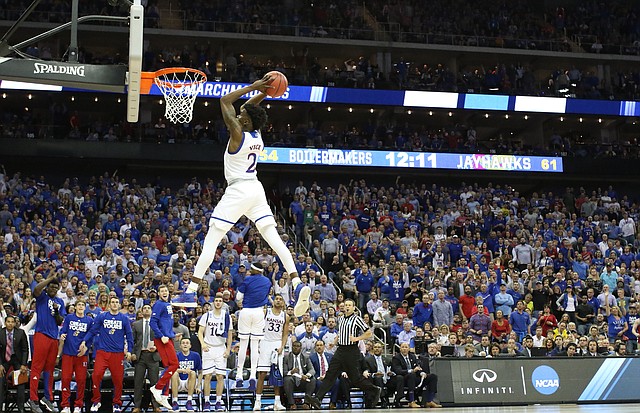 Kansas guard Lagerald Vick (2) spins to deliver a 360 jam on a breakaway during the second half, Thursday, March 23, 2017 at Sprint Center in Kansas City, Mo.
Stories this photo appears in:

While Saturday's regular season finale against Baylor at Allen Fieldhouse will be the rare season-ender without a celebration of KU's seniors, Kansas coach Bill Self took time in the days leading up to it to reflect on the lone senior on his 2018-19 roster. By Matt Tait

Kansas junior Lagerald Vick experienced the thrill of hearing the roar of the Allen Fieldhouse crowd when his named was announced as a starter in five consecutive games last season.

Kansas basketball coach Bill Self, who has been on both sides of more than a few of these types of NCAA Tournament chess matches, stressed to his team all week that speed beats size. Perhaps it was just to provide his team with confidence. Maybe it was to knock Purdue down a peg. Maybe it was just the truth, the whole truth and nothing but the truth the way Self saw it. Either way, the top-seeded Jayhawks proved their coach right in a big way — and a bunch of ways — during Thursday's explosive, 98-66, Sweet 16 victory. By Matt Tait