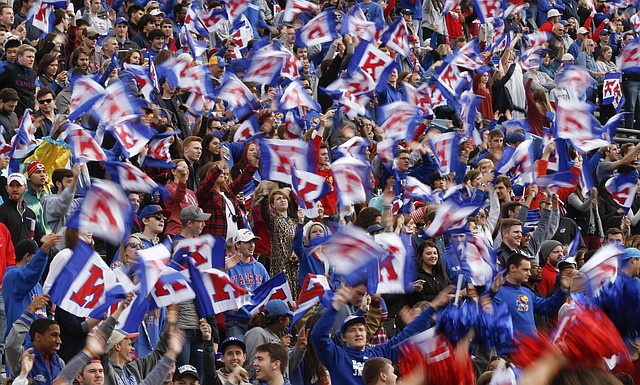 Fans in the Kansas student section wave souvenir KU flags following a touchdown by Kansas wide receiver Tyler Patrick during the second quarter Saturday, Oct. 31, 2015 at Memorial Stadium.
Stories this photo appears in:

The University of Kansas has received formal approval to ban guns from games at Allen Fieldhouse and Memorial Stadium. Metal detectors and guards would be put in place for men's basketball and football games, primarily, but also to any other sporting event expected to draw more than 5,000 to the facilities, under a proposal approved Wednesday morning by the Kansas Board of Regents governance committee.

Security measures to prohibit guns estimated to cost more than $1 million
Starting this fall, prepare for an experience reminiscent of pro sports when entering Allen Fieldhouse and Memorial Stadium for games: metal detectors and security guards. Kansas law requires state universities to allow concealed handguns on their campuses beginning July 1, but KU anticipates banning guns from athletic events where attendance is expected to be more than 5,000 people, according to newly released concealed carry implementation information from the university.
January 31, 2017 6:27 p.m.