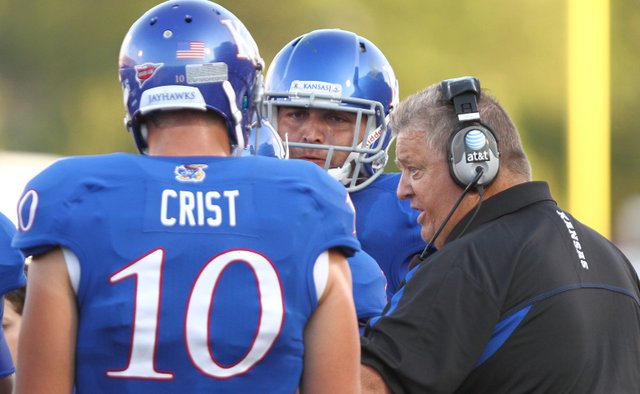 Kansas head coach Charlie Weis has a talk with quarterback Dayne Crist and tight end Mike Ragone in the second quarter, Saturday, September 1, 2012 at Memorial Stadium.
Stories this photo appears in:

When Notre Dame graduates Dayne Crist, Anthony McDonald and Mike Ragone decided to team together for one more season of college football, they envisioned a scenario that played out much differently than the one the senior transfers have experienced this season at Kansas University. By Matt Tait

Fans of Kansas University football — particularly those who had hoped to see a blowout in Saturday's season opener — might have gotten a jump-start on critiquing KU's 31-17 victory against South Dakota State on Saturday night. KU coach Charlie Weis did his best to catch up Sunday.