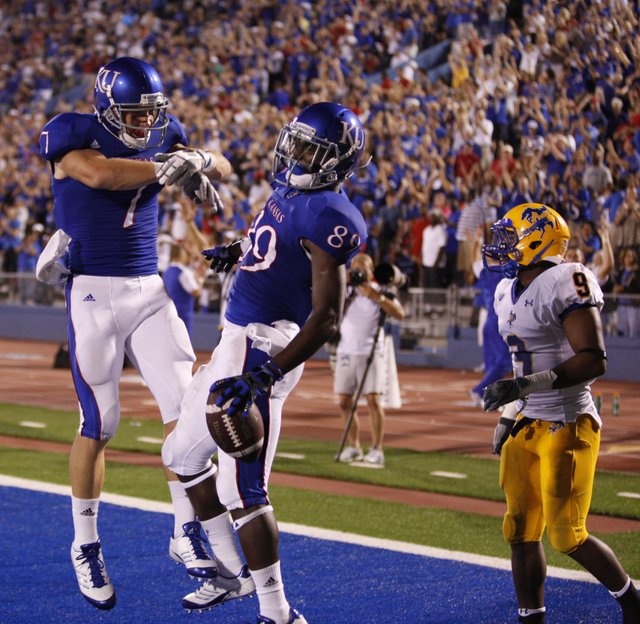 Kansas receivers Kale Pick (7) and JaCorey Shepherd bump chests after Shepherd's second touchdown of the game against McNeese State during the fourth quarter on Saturday, Sept. 3, 2011 at Kivisto Field.
Stories this photo appears in:

With senior Daymond Patterson listed as doubtful because of a groin injury and sophomores Erick McGriff and Christian Matthews sitting in street clothes due to suspensions, Kansas University quarterback Jordan Webb will be missing a few of his top targets when the Jayhawks play host to Northern Illinois at 6 tonight.

Luckily, Kansas University basketball coach Bill Self didn't accompany receivers coach David Beaty on his recruiting trip to a Horn High basketball game in Mesquite, Texas, last winter to watch JaCorey Shepherd.

The perfect opening-game scenario for Kansas University's true freshmen must have looked something like this: Darrian Miller runs hard all night and has every carry but one go for positive yardage; Tony Pierson picks up a touchdown and delivers a few electrifying runs; and JaCorey Shepherd, the wide receiver teammates said all summer was nearly unguardable, picks up a TD in his first game.