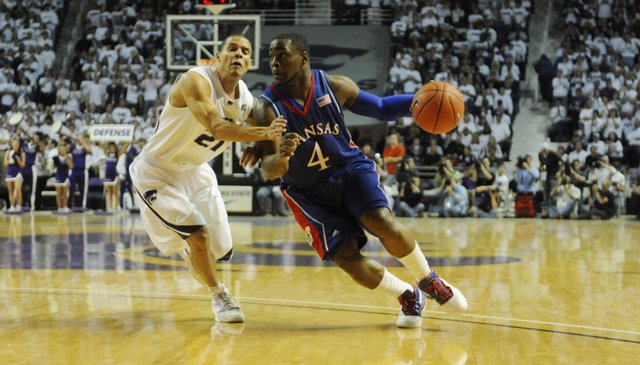 Kansas University's Sherron Collins, right, drives against Kansas State's Denis Clemente during their meeting in Manhattan. The former rivals have reunited at the Charlotte Bobcats' summer league camp.
Stories this photo appears in:
Consensus All-American Sherron Collins was both shocked and disappointed the night of June 24 when he failed to hear his name called in the NBA Draft.

Denis Clemente was sorry that he hurt his team with a technical foul midway through the second half. He wasn't apologetic, though, for elbowing Kansas University's Brady Morningstar to pick up the 'T.' "He elbowed me in my stomach, and I'm not going to let nobody bump me in my house," the Kansas State guard said after KU's 85-74 victory Saturday. "This is my house. So I punched him back."