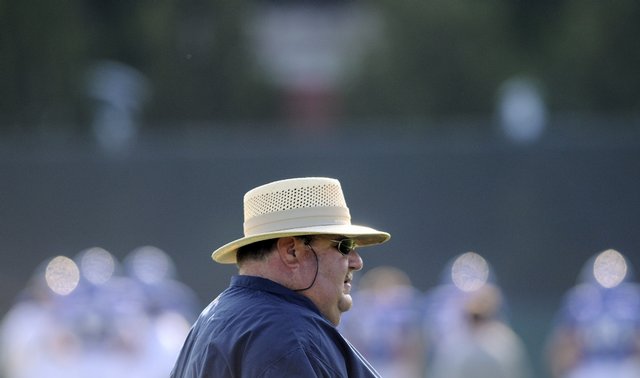 Kansas head football coach Mark Mangino scans the KU practice field Tuesday, Aug. 11, 2009.
Stories this photo appears in:

Former KU coach Mark Mangino set to return to Big 12 as Iowa State OC
Locate that calendar on your desk or refrigerator, in your pocket or computer. Circle the date Nov. 8, 2014. It marks the day Mark Mangino returns to the stadium that the vast majority of Kansas University football fans wish he never had left. By Tom Keegan

Coach accused of berating student parking employee in 2007, has not had a ticket since
The summer before Kansas football would embark on its most successful season in history, the team's coach would be accused of verbally berating a KU student who had issued him the latest of nearly two dozen tickets for illegally parking in a loading zone near his office.

The Jayhawks' football program has been turned around, but players say coach Mark Mangino has remained the same
Kansas University football players say coach Mark Mangino hasn't changed much, though the program sure has.