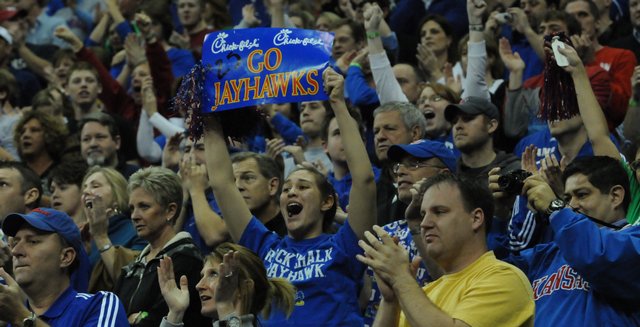 Kansas fans go wild in the stands as the Jayhawks begin to pull away from the Longhorns in the second half Sunday at the Sprint Center in Kansas City, Mo. After the Kansas University men's basketball team defeated the University of Texas, 84-74, and claimed the Big 12 Conference championship, it was named the No. 1 seed in the NCAA's Midwest Region. With the Jayhawks kicking off play in the tournament at 11:25 a.m. Thursday in Omaha, many fans are expected to follow, even though the Qwest Center is sold out for the game.
Stories this photo appears in:

First-round venue has lots to do for lucky few who have tickets - or those who don't
Twenty years ago, Kansas University's men's basketball team won the 1988 national title, starting its run with two games in Nebraska and two in Detroit before the Final Four. If the two-decade championship funk will be broken this year, it will take the same path.