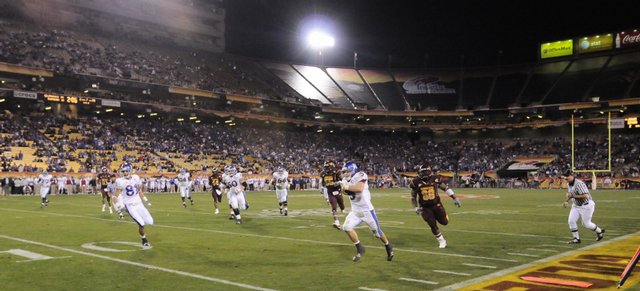 Kansas quarterback Todd Reesing takes off on a long run past the Minnesota defense during the fourth quarter of the Insight Bowl Wednesday, Dec. 31, 2008 at Sun Devil Stadium in Tempe, Arizona. The play set up a final Jayhawk touchdown for running back Jake Sharp.
Stories this photo appears in:

In the aftermath of the Kansas University football team's historic 42-21 Insight Bowl victory over Minnesota — which long will be remembered as the day Jayhawks quarterback Todd Reesing and receiver Dezmon Briscoe essentially were unstoppable — the two players made their way to a news conference at Sun Devil Stadium, where dozens of reporters wanted to know how, exactly, they had managed to do what they had just done.

Reesing throws for 313 yards; Meier adds passing, receiving touchdowns