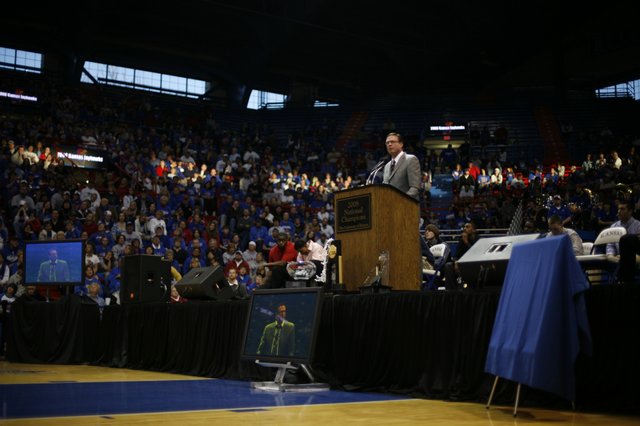 Bill Self addresses Jayhawk fans Sunday, April 13, 2008 during an awards ceremony for the 2008 national champion KU basketball team at Allen Fieldhouse.
Stories this photo appears in:

Allen Fieldhouse doors will swing open at 5:30 p.m., Oct. 17 for Kansas University's season-opening Late Night in the Phog. The program, which will include men's and women's basketball skits and scrimmages, will start at 6:45 p.m., and conclude around 9:30 p.m., KU associate athletic director Jim Marchiony said Thursday. It will be televised by Metro Sports with portions shown by ESPNU.

Award ceremony caps Jayhawks' daylong lovefest
Bill Self and his wife, Cindy, hopped out of a light blue Corvette convertible after the 21â2-mile ride of their lives - down Massachusetts Street, 19th Street and Naismith Drive, with 80,000 or so fans cheering them the whole way. "We're floating on air right now," Self, Kansas University's fifth-year basketball coach, said upon conclusion of a Sunday afternoon parade honoring the NCAA basketball champions.