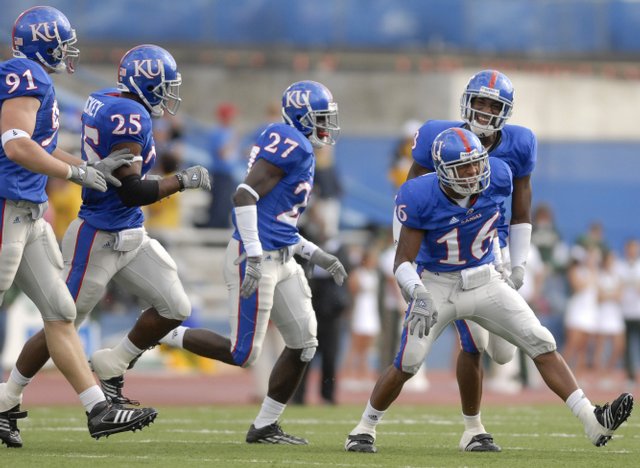 Kansas cornerback Chris Harris (16) celebrates with his fellow Jayhawk defenders after intercepting a Baylor Bears pass. Wednesday, Harris was named Big 12 defensive newcomer of the year.
Stories this photo appears in:
Kansas University cornerback Chris Harris was named Big 12 Defensive Newcomer of the Year by the Associated Press, it was announced Wednesday.
The University of Georgia recently sent a marketing package to the Rose, Orange and Fiesta bowls showing just how the school is going to sell a boat-load of tickets to whichever game the Bulldogs are invited. This is what the at-large BCS bowl candidates do in the days leading up to Selection Sunday.

The humans have spoken all year long. Now, the computers are thinking that Kansas University's football team is pretty good, too. The first Bowl Championship Series standings were released Sunday, with Kansas ranking a flashy 13th in the nation.