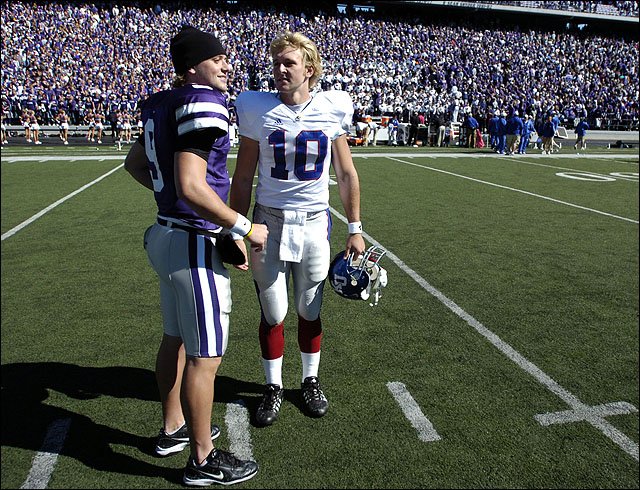 Back when they met on the field at KSU Stadium after the 2005 Sunflower Showdown, Dylan, left, and Kerry Meier both were quarterbacks. Kerry Meier — a red-shirt in 2005 — since has moved to wide receiver.
Stories this photo appears in:

WR was on hand as KU topped Brazil in World Games
Former KU football star Kerry Meier, now an English teacher in South Korea, took a break from his pursuit of living out his late brother's dreams to watch the Kansas University men's basketball team top Brazil at the World University Games less than an hour from where Meier is currently living. By Bobby Nightengale

Dylan's death sparks memories of strong family
Sometimes, it can look a little creepy when a 50-something man waits and waits and waits for an autograph from a college athlete. Is he selling it? Does he have so little going on in life that he makes heroes of young men in helmets?

When Kansas University football coach Mark Mangino decided to pursue a quiet quarterback from Pittsburg High a few years back, he did so with the understanding that luring the player to Lawrence would not be an easy task.