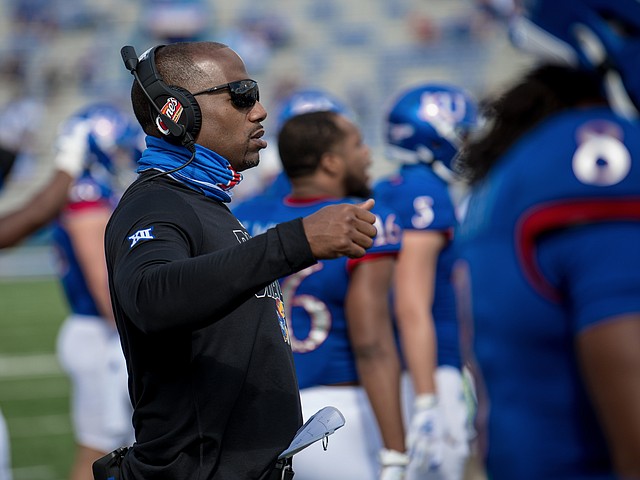 Kansas receivers coach and passing game coordinator Emmett Jones coaches from the sideline in this file photo from the 2020 season. KU named Jones the football team's interim head coach on March 11, 2021.
Stories this photo appears in:
The Kansas football program had a new visitor at practice on Tuesday when Travis Goff, KU's athletic director, stopped by. With Goff set to have an introductory press conference on Wednesday, many are wondering what his plans for the future of the program entail, and exactly how long interim head coach Emmett Jones will remain in charge of the program.
Emmett Jones didn't envision getting an opportunity at this point of his career to lead the Kansas football program. But as the Jayhawks' interim head coach explained in his first interview since accepting the position, Jones is welcoming his current unexpected circumstances.
A popular assistant on the Kansas football staff since he arrived in Lawrence as the receivers coach in December of 2018, Emmett Jones' reputation with the program's players clearly played a role in KU naming him the interim head coach, following the departure of Les Miles.