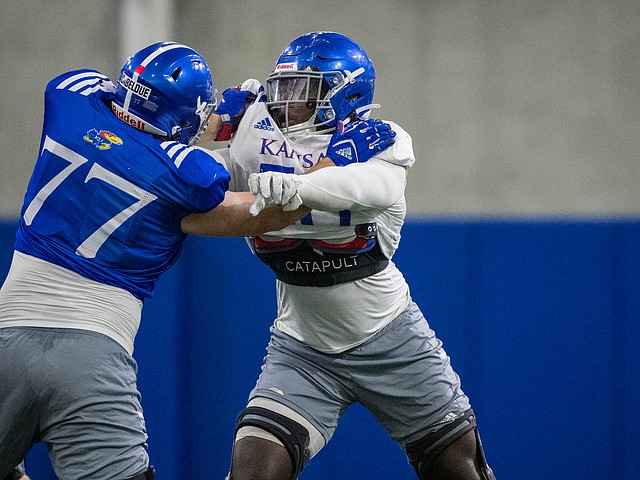 Kansas offensive lineman Bryce Cabeldue (No. 77) and defensive lineman Marcus Harris compete during one of the Jayhawks' preseason practices, in 2020.
Stories this photo appears in:
The Kansas football program's transition to a new coaching regime included a tandem setback in the trenches, as defensive end Marcus Harris and nose tackle Da'Jon Terry opted to transfer out of the program. Yet the position group's leader, third-year D-line coach Kwahn Drake, downplayed this week what type of blow that might be for the unit.
One of the Kansas football team's top defensive prospects won't be around to help the Jayhawks in Lance Leipold's first season.

Throughout a winless 2020 season, the Kansas football team's offensive line suffered through so many losing battles at the point of attack that the Jayhawks rarely were able to avoid blowout defeats. While no one is denying those issues existed, the hope among KU's O-linemen this year is that they can keep all of that ugliness in the past.