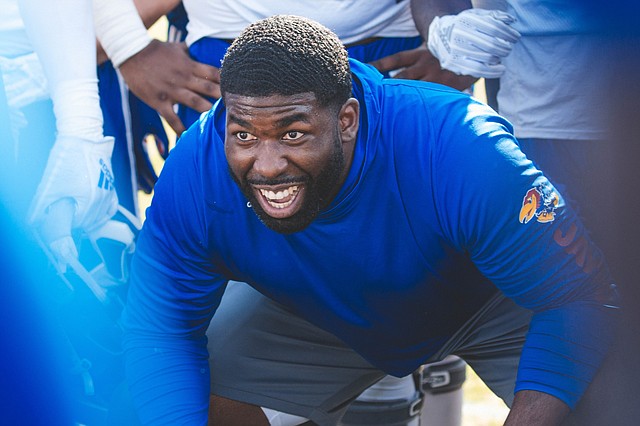 Kansas football coach Les Miles promoted former quality control staffer Chidera Uzo-Diribe, naming him KU's new outside linebackers coach on Jan. 24, 2020.
Stories this photo appears in:

In a 2020 college football calendar filled with oddities, one of the strangest discrepancies occurred long before the kickoff of a pandemic impacted regular season. Some programs, unlike KU, were able to get in some spring practices before the entire sports world got put on lockdown. It so happened the Jayhawks in their opener faced a Coastal Carolina team that not only had reps in the spring, but got through its entire 15-practice schedule.

Ever since Kansas football started recruiting Clinton Anokwuru, assistant coach Chidera Uzo-Diribe knew he had a special connection with the three-star defensive end — the two men both belong to the Igbo tribe in Nigeria. By Shane Jackson

A defensive quality control staffer at KU this past year, Chidera Uzo-Diribe, who was a defensive end at Colorado during his playing days, will now be a full-time assistant, coaching the Jayhawks' outside linebackers.