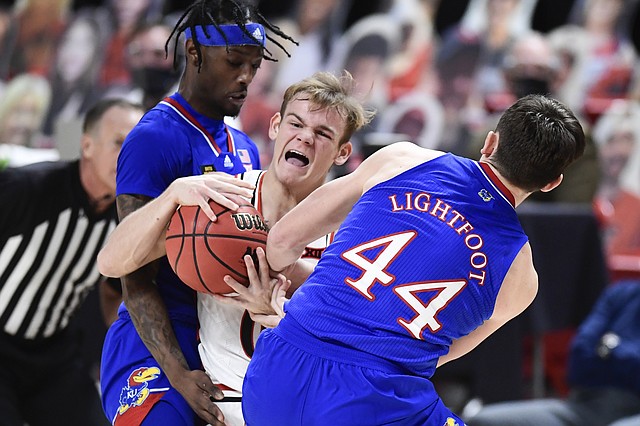 Kansas forward Mitch Lightfoot (44) strips the ball from Texas Tech's Mac McClung (0) during the first half of an NCAA college basketball game in Lubbock, Texas, Thursday, Dec. 17, 2020. (AP Photo/Justin Rex)
Stories this photo appears in:

A look at some of the keys for 23rd-ranked Kansas in Saturday's clash with No. 15 Texas Tech at 1 p.m. on ESPN at Allen Fieldhouse. By Matt Tait

Like every other team that has played Gonzaga this season, third-ranked Kansas was overmatched and outworked when the Jayhawks and Zags did battle on Thanksgiving Day to open the season. But KU has won every game it has played since then, and two of the team's top leaders believe there's one area the Jayhawks have improved the most since giving up 102 points to the nation's No. 1 team. By Matt Tait

If Thursday night's Big 12 opener was any indication, this year's race for the league title figures to be as interesting as it has ever been. KU earned a 58-57 win over Texas Tech in the United Supermarkets Arena.
December 17, 2020 8:14 p.m.