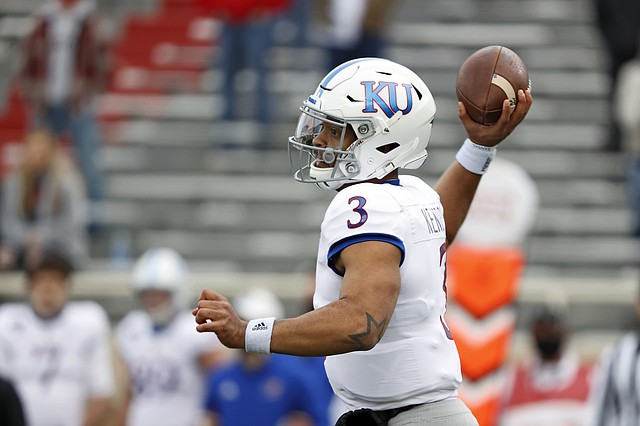 Kansas' Miles Kendrick (3) passes the ball during the first half of an NCAA college football game against Texas Tech, Saturday, Dec. 5, 2020, in Lubbock, Texas. (AP Photo/Brad Tollefson)
Stories this photo appears in:

As Kansas football players get initiated this summer into what head coach Lance Leipold and his staff expect of them, a handful of Jayhawks already are getting noticed. The team's director of sports performance, Matt Gildersleeve, tabbed veteran quarterback Miles Kendrick KU's first "guy of the week" for all that the QB has done during the Jayhawks' strength and conditioning workouts so far.

Pending might be the best way to describe the Kansas football program's current quarterback situation, leading up to the start of spring practices in late March.

The 2020 Kansas football season will conclude much like it began, with head coach Les Miles yet again heading into a game week accompanied by some uncertainty regarding the team's starting quarterback.