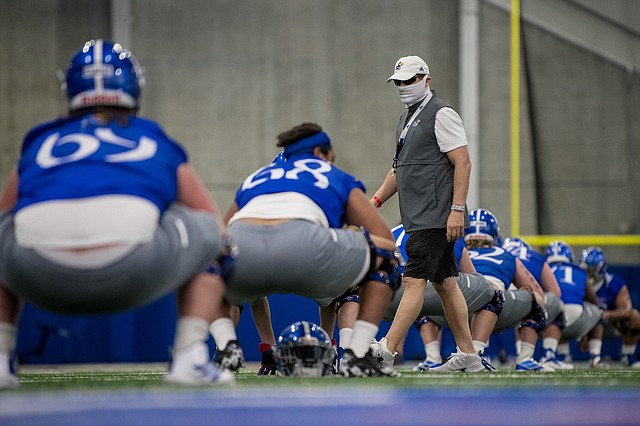 Kansas football head coach Les Miles wears a mask while walking around during an early August practice in the team's indoor facility.
Stories this photo appears in:

In a 2020 college football calendar filled with oddities, one of the strangest discrepancies occurred long before the kickoff of a pandemic impacted regular season. Some programs, unlike KU, were able to get in some spring practices before the entire sports world got put on lockdown. It so happened the Jayhawks in their opener faced a Coastal Carolina team that not only had reps in the spring, but got through its entire 15-practice schedule.

Miles: No players currently isolated for quarantine
Though Kansas football coach Les Miles reported Thursday during his first video press conference of the preseason that nobody in the program is currently suffering from a COVID-19 infection, the Jayhawks spent much of the past couple of months dealing with the virus.