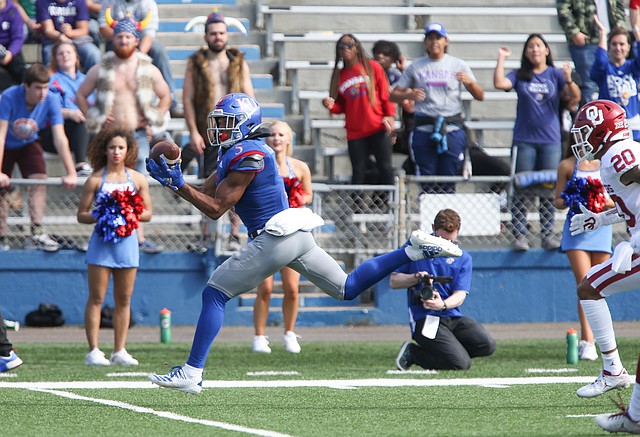 Kansas wide receiver Stephon Robinson Jr. (5) reaches to pull in a touchdown pass during the fourth quarter on Saturday, Oct. 5, 2019 at Memorial Stadium.
Stories this photo appears in:

Kansas football coach Les Miles, happily reciting some statistics from his team's just completed victory over Texas Tech on Saturday night, had to stop himself after reading the stat line for Stephon Robinson Jr. "Oh, my goodness," the giddy coach remarked, after saying the numbers out loud. By Benton Smith

With a 25-point home loss to No. 6 Oklahoma still taking up space in their minds, Kansas football players and head coach Les Miles didn't really have any momentum to cling to while heading into their first bye week of the season. However, receiver Stephon Robinson provided one positive development the Jayhawks (2-4 overall, 0-3 Big 12) can take with them into the second half of the season.
Even under the best of circumstances, Kansas was facing a daunting task when it welcomed sixth-ranked Oklahoma to town.
October 5, 2019 5:33 p.m.