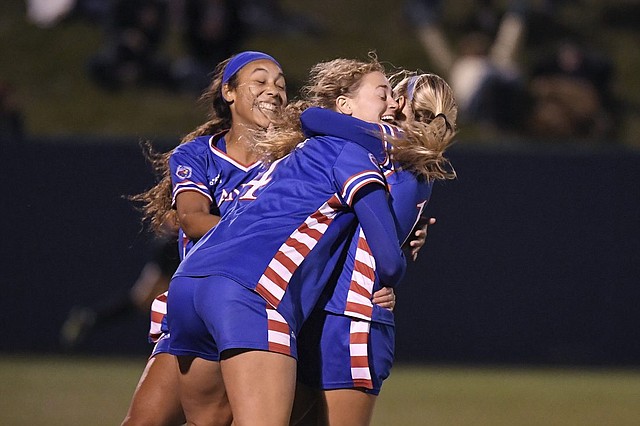 Kailey Lane (center), Sam Barnett (left), and Katie McClure (right) celebrate a goal by Lane against Iowa Saturday night at Rock Chalk Park on Nov. 16, 2019.
Stories this photo appears in:

Kansas' women's soccer team has been on a roll in recent weeks. The Jayhawks won their first Big 12 tournament title two weeks ago. They kicked off their NCAA Tournament appearance with a Round 1 victory over Iowa last weekend at Rock Chalk Park. Last Friday night, the team was greeted by a standing ovation at Allen Fieldhouse after trotting their Big 12 trophy onto the court.

It took almost 70 minutes for Kansas soccer to break through, but a quick strike inside the box from sophomore Kailey Lane proved to be the difference between keeping a season alive and going home early.