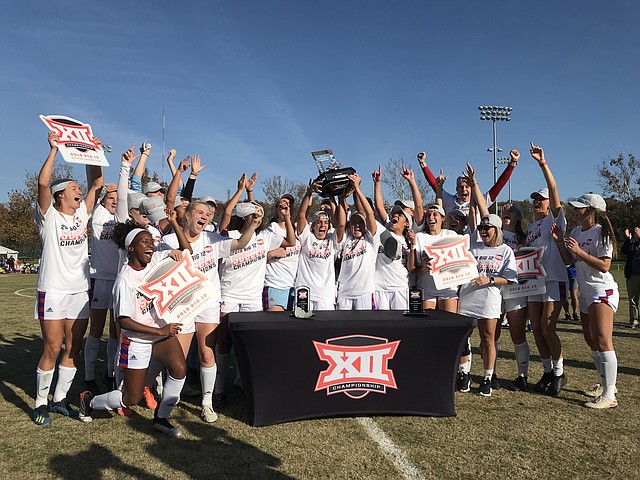 Kansas soccer celebrates its first Big 12 Championship title in program history. KU defeated TCU 1-0 on Sunday, Nov. 10.
Stories this photo appears in:

The Kansas soccer team won the Big 12 Tournament and advanced to the NCAA's Sweet 16 a year ago, but according to the conference's preseason coaches' poll, expectations outside of Lawrence aren't as high for the Jayhawks in 2020.

For the third time in four seasons and the ninth time in program history, the University of Kansas soccer team earned a bid to the NCAA Division I Women's Soccer Championship when the field was announced Monday afternoon.
By Staff report
November 11, 2019 6:32 p.m.

After a scoreless first half, Kansas soccer searched for one slight misstep from the TCU defense. And in the 55th minute, that came in the form of junior forward Mandi Duggan sneaking a shot inside the near post for a go-ahead goal.
By Braden Shaw
November 10, 2019 3:33 p.m.