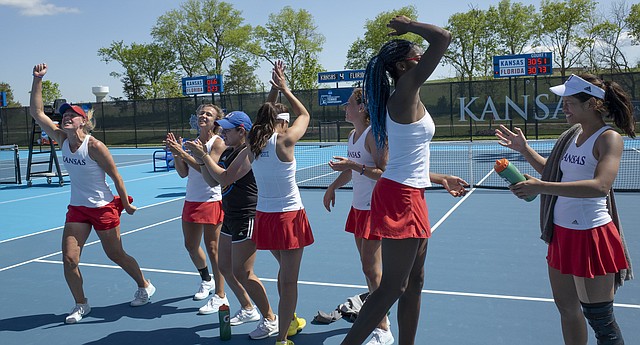 The Kansas tennis team celebrates a a 4-2 win against Florida on Saturday, May 4, 2019, at the Jayhawk Tennis Center. The win moved Kansas into the Sweet 16.
Stories this photo appears in:

The NCAA will permit spring sport athletes — such as baseball, softball and tennis players — who had their seasons shortened by the coronavirus outbreak to have an additional year of eligibility.

After the Kansas women's tennis team claimed its third point, many fans turned their attention to the fourth court at the Jayhawk Tennis Center Saturday afternoon.

Moments after Kansas senior Janet Koch lost her singles match and shook hands with her opponent, she turned to watch the fourth court at the Jayhawk Tennis Center. Within seconds, freshman Sonia Smagina let out a deafening scream as the return by Marlee Zein soared out of bounds. Koch was the first to hug Smagina, who capped off KU's 4-2 win over Florida in the second round of the NCAA Tournament Saturday afternoon. Shane Jackson