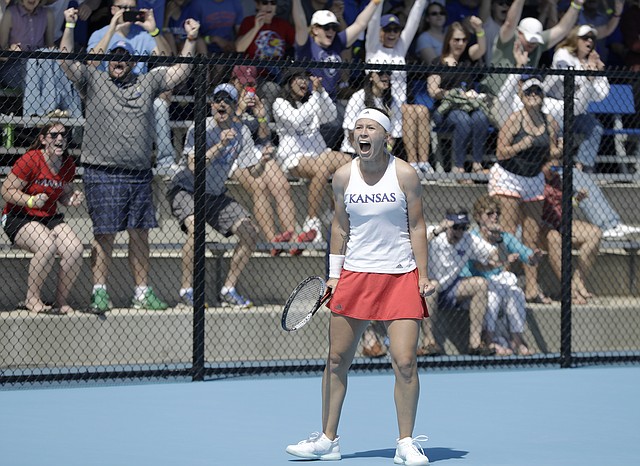 Kansas freshman Sonia Smagina and Kansas fans react to her win at No. 4 singles giving KU a 4-2 win against Florida on Saturday, May 4, 2019 at the Jayhawk Tennis Center. Kansas advances to the Sweet 16 next weekend.
Stories this photo appears in:

The Kansas tennis team will be represented in the finals of both the Intercollegiate Tennis Association's women's singles crimson bracket and the women's doubles bracket Monday at the Jayhawk Tennis Center at Rock Chalk Park.

Moments after Kansas senior Janet Koch lost her singles match and shook hands with her opponent, she turned to watch the fourth court at the Jayhawk Tennis Center. Within seconds, freshman Sonia Smagina let out a deafening scream as the return by Marlee Zein soared out of bounds. Koch was the first to hug Smagina, who capped off KU's 4-2 win over Florida in the second round of the NCAA Tournament Saturday afternoon. Shane Jackson