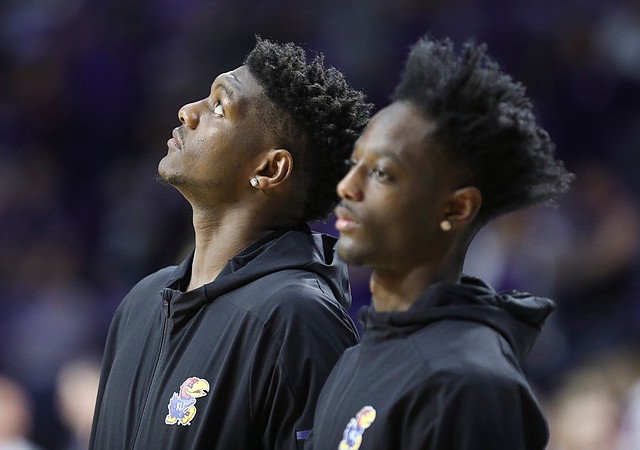 Kansas forward Silvio De Sousa, who was recently ruled ineligible by the NCAA, watches the video board along side injured teammate Marcus Garrett before tipoff against Kansas State, Tuesday, Feb. 5, 2019 at Bramlage Coliseum.
Stories this photo appears in:

On Feb. 2, during an impromptu press conference before KU's home victory over Texas Tech, Kansas Athletic Director Jeff Long spoke with fire and passion about the two-year suspension handed out to KU sophomore Silvio De Sousa for his guardian's role in a pay-for-play scheme in college basketball and promised to appeal the ruling and fight for De Sousa's eligibility. Today, now 75 days later, that process is finally in motion. By Matt Tait

Fort Worth, Texas — Vernon Turner remembers, four or five years ago, when KU sophomore Marcus Garrett, then a freshman at Skyline High in Dallas, would warm up with the Skyline freshman team and scare the dickens out of the opponent on just about every occasion.