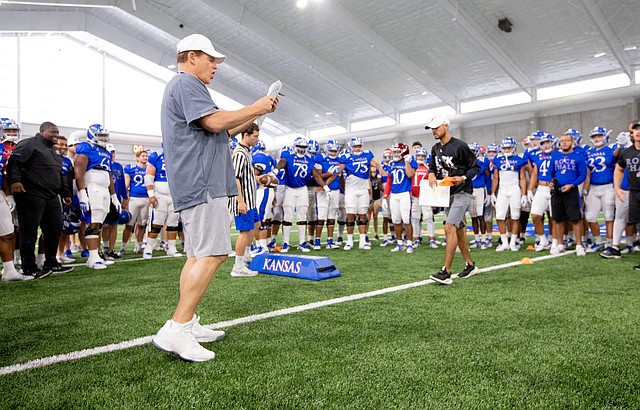 Kansas head coach Les Miles calls out players to go head-to-head in the Jayhawk drill during practice on Thursday, Aug. 8, 2019.
Stories this photo appears in:

By this point of March, the Kansas football team was supposed to be four practices into its spring schedule. At least that was the plan before the coronavirus pandemic changed everything. Instead, spring football as the Jayhawks know it will be lost, and it remains unclear when they will next have a chance to practice again. By Benton Smith

KU self-reported Level 3 violations by football program
The NCAA has amended the Notice of Allegations it first sent the University of Kansas a little more than four months ago, a result of KU self-reporting a minor violation committed by the KU football program.

With three weeks left before he leads the Kansas football team onto the field for a game for the first time, Les Miles and his assistants spent much of Saturday's practice in scrimmage mode, trying to gauge how far away the Jayhawks are from being ready for the season. By Benton Smith