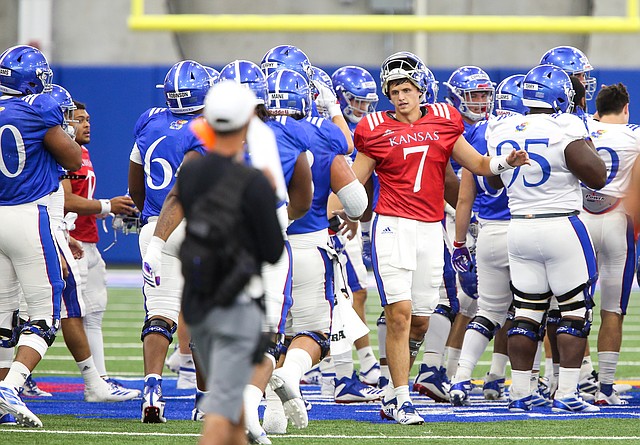 Kansas quarterback Thomas MacVittie high fives his teammates after breaking from a team huddle during practice on Thursday, Aug. 8, 2019.
Stories this photo appears in:

Kansas football coach Les Miles decided not to publicly name a starting quarterback ahead of his team's season debut Saturday night versus Coastal Carolina, maintaining in interviews that the competition would last through this week. With that as the backdrop for their week of preparation, both Kendrick and MacVittie described the vibe of their battle.

By this point of March, the Kansas football team was supposed to be four practices into its spring schedule. At least that was the plan before the coronavirus pandemic changed everything. Instead, spring football as the Jayhawks know it will be lost, and it remains unclear when they will next have a chance to practice again. By Benton Smith

As much as Les Miles enjoyed his first four preseason practices as the head coach at the University of Kansas over the course of the past week, it was the fifth one that he looked forward to most. By Benton Smith