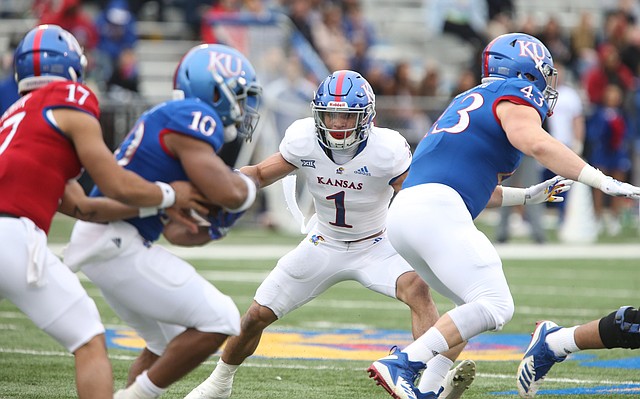 White team safety Bryce Torneden watches the handoff during Late Night Under the Lights on Saturday, April, 13, 2019 at Memorial Stadium.
Stories this photo appears in:

Head coach Les Miles felt pretty confident he could identify the best leaders on his Kansas football team. A player vote this past weekend confirmed it. By Benton Smith

"We're kind of the voice of the team," senior safety Bryce Torneden said of the unity council created by KU football coach Les Miles. By Braden Shaw
By Braden Shaw
August 9, 2019 12:38 p.m.

In the seven-plus months since he was hired to breathe some life into a dormant Kansas football program, head coach Les Miles has proven unwavering in his quest to reveal only the vaguest details about what he envisions for KU's offense this coming fall. Nevertheless, it seems one key component for the Jayhawks will be the run-pass option calls that appear in offensive coordinator Les Koenning's playbook. By Benton Smith