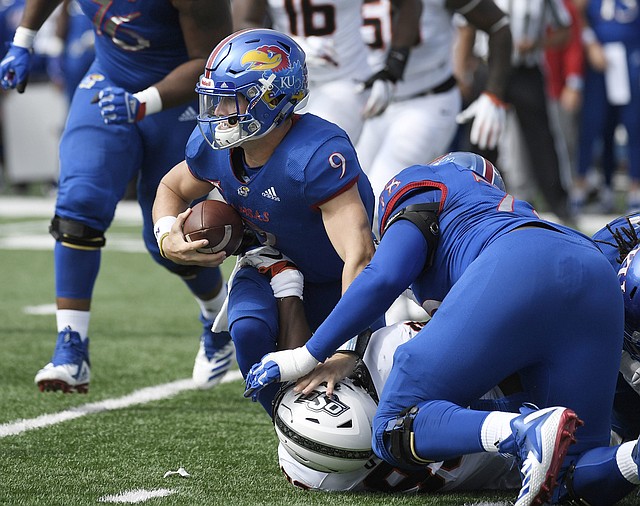 Kansas quarterback Carter Stanley is sacked by Oklahoma State on Saturday, Sept. 29, 2018.
Stories this photo appears in:

Who will start at quarterback for Kansas this week? Who knows? With five games left in the season, KU still doesn't have a definitive starting QB. If the Jayhawks want to nab a win or two before 2018 has come and gone, they had better land on one now. By Benton Smith

Following his team's home loss to Oklahoma State on Saturday, Kansas football coach David Beaty said he would need to further review quarterback Carter Stanley's play before deciding whether the redshirt junior would remain the starter. By the time Beaty spoke on the Big 12 coaches media teleconference Monday morning, he had seen enough to keep Stanley at the top of the depth chart. By Benton Smith

David Beaty wasn't the first football coach to say he needed to look at the film before evaluating a player's performance. And if the fourth-year leader of Kansas' program lets the minutia of the Oklahoma State game film outweigh the big picture that unfolded on the field, he won't be the first to do that either. But if Beaty does nitpick until he sees enough to justify basing his decisions on which quarterback to start on how each one matches up against the next opponent, he would be making a mistake.