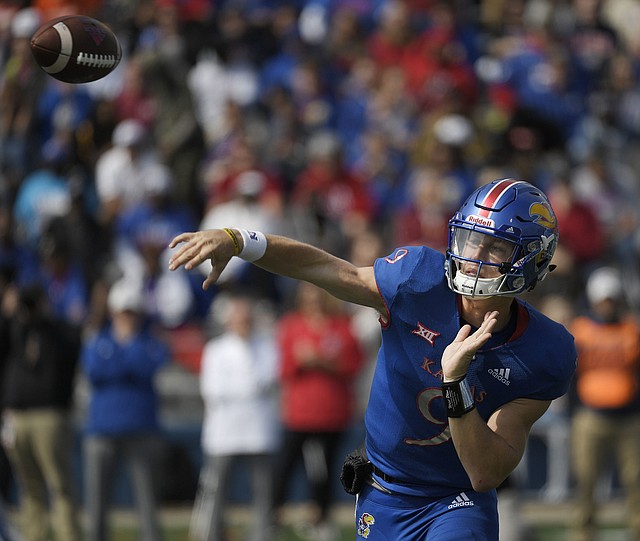 Kansas quarterback Carter Stanley throws a pass to a teammate at David Booth Kansas Memorial Stadium on Saturday, Sept. 29, 2018.
Stories this photo appears in:

Between new starter Carter Stanley, former starter Peyton Bender and backup Miles Kendrick (currently out with a shoulder injury), Kansas quarterbacks have thrown 147 passes without putting a single one of them in a bad enough spot to be intercepted by a defender (KU has completed 93 throws for 879 yards and eight touchdowns). By Benton Smith

Following his team's home loss to Oklahoma State on Saturday, Kansas football coach David Beaty said he would need to further review quarterback Carter Stanley's play before deciding whether the redshirt junior would remain the starter. By the time Beaty spoke on the Big 12 coaches media teleconference Monday morning, he had seen enough to keep Stanley at the top of the depth chart. By Benton Smith

After four weeks of starting Peyton Bender at quarterback and rotating the senior in and out of the lineup to varying degrees each game, Kansas football coach David Beaty took an entirely different approach against Oklahoma State on Saturday. Not only did Carter Stanley replace Bender at QB, but the redshirt junior took every snap during KU's 48-28 homecoming loss to the Cowboys, in front of 18,364 fans.