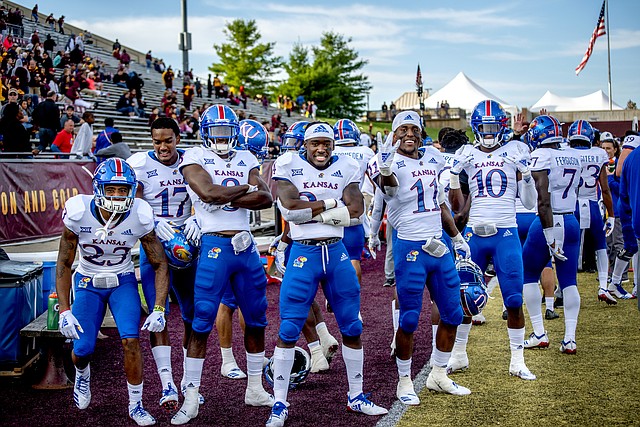 A contingent of Kansas football defensive players — from left, Elmore Hempstead Jr., Elijah Jones, Najee Stevens-McKenzie, Ricky Thomas, Mike Lee and Julian Chandler — pose on the sideline as the Jayhawks wrap up a road win at Central Michigan.
Stories this photo appears in:

Mike Lee's bravado knows no bounds. Always confident and inevitably glad to let anyone who is listening know what's on his mind, the Kansas football safety made it known this spring he has considerable goals in store for the defense in 2019. By Benton Smith

No matter how great a new product looks on paper, it's going to be tough to sell unless the salesman has that first satisfied customer to stand as proof of concept. For the Kansas football program's Louisiana recruiting plan, junior safety Mike Lee represents proof of concept.

The Kansas football team scored more points against an FBS opponent in Saturday's road losing streak-killing 31-7 win at Central Michigan than it had since defeating Iowa State at home, 34-14, in 2014. Nonetheless it was KU's defense that made sure no doubt crept into the Jayhawks' minds in the second half, as six takeaways allowed the visitors to cruise. By Benton Smith