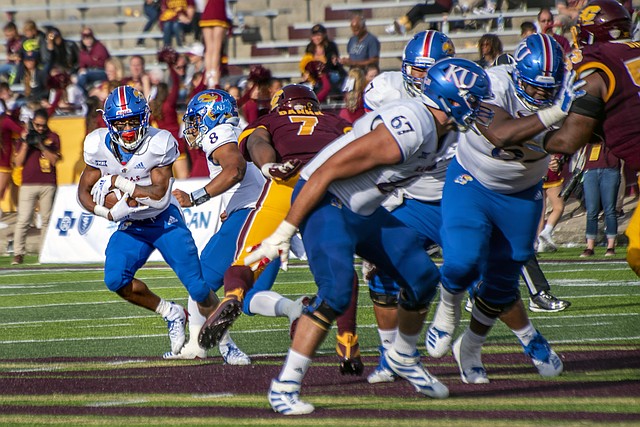 Kansas freshman running back Pooka Williams eyes a running lane against Central Michigan, during the Jayhawks' 31-7 road win Saturday at Kelly/Shorts Stadium in Mount Pleasant, Mich.
Stories this photo appears in:

If the undisclosed eligibility issue that kept Kansas running back Pooka Williams from playing in the football team's season opener remains unresolved — head coach David Beaty won't address its status — the matter, Beaty insists, is not one currently causing him grief. By Benton Smith

If you're still on the fence about whether to head out to David Booth Kansas Memorial Stadium for an 11 a.m. kickoff Saturday vs. Rutgers, don't take my word for it. Heed the words of someone who has witnessed a ton of Pooka highlights live.

RB named Big 12 Newcomer of Week
Some mystery still surrounds what kept the Kansas football team from playing Pooka Williams in its season opener. But head coach David Beaty said Monday morning the freshman running back who raced to 125 rushing yards and two touchdowns in his debut will be back in action this Saturday for the Jayhawks' home game versus Rutgers. By Benton Smith