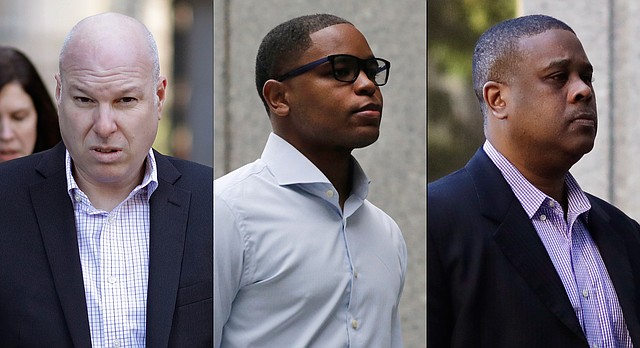 From left, former Adidas executive James Gatto, former sports agent Christian Dawkins and former amateur basketball league director Merl Code arrive at federal court in New York in these photos from October 2018. (AP Photo/Mark Lennihan)
Stories this photo appears in:

The University of Kansas wants the three men convicted of fraud in the college basketball corruption trial to pay more than $1 million worth of restitution to the university, according to a document filed in the U.S. District Court for the Southern District of New York on Tuesday.

The three men who were convicted of fraud for their schemes in a college basketball recruiting scandal — which included the University of Kansas program — recently asked a judge to sentence them to probation rather than jail, according to documents filed in the U.S. District Court Southern District of New York.
By Dylan Lysen
February 14, 2019 11:14 a.m.

An Adidas executive and two other insiders from the high-stakes world of college basketball recruiting were convicted Wednesday in a corruption case that prosecutors said exposed the underbelly of the sport.
By Staff and wire reports
October 24, 2018 2:04 p.m.