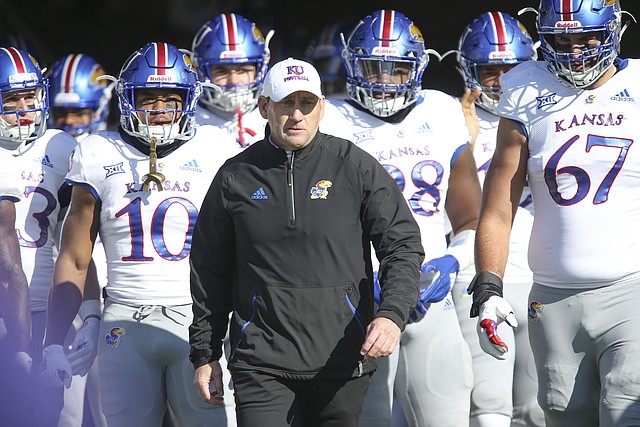 Kansas head coach David Beaty takes the field with he Jayhawks prior to kickoff on Saturday, Nov. 10, 2018 at Bill Snyder Family Stadium in Manhattan, Kan.
Stories this photo appears in:

As David Beaty closes out his final days as football coach at the University of Kansas, he couldn't escape at least a few questions about the future of the program and his successor, Les Miles. "I hope and pray for Jayhawk nation that they will get behind him, that they will give him the things that he needs to be successful," Beaty said. By Benton Smith

During a weekend in Vegas this past summer, I placed a $5 bet on an electronic horse racing game and somehow — much to the chagrin of the rest of the bachelor party — managed to win $150 from that short race. For the rest of the weekend, I took more chances at the roulette table, or at least as risky as a recent college grad with a pile of student debt could be. After all, I was playing with money that I didn't deserve to have.
November 15, 2018 5:31 p.m.