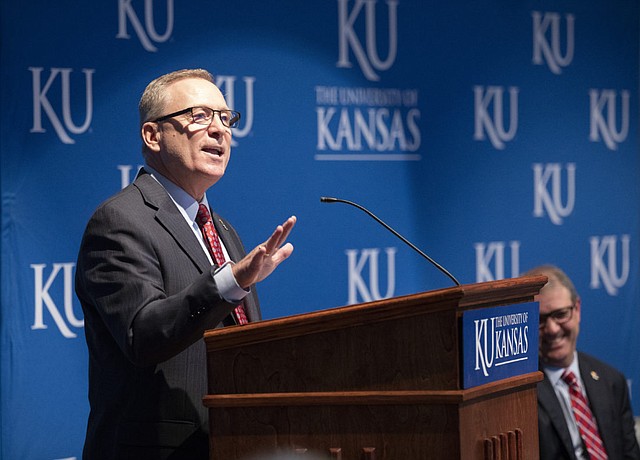 New University of Kansas athletic director Jeff Long addresses those gathered for his introductory news conference on Wednesday, July 11, 2018 at the Lied Center Pavilion.
Stories this photo appears in:

Today is new KU athletic director Jeff Long's first day on the job. And while that might sound exciting and worthy of some kind of official recognition, Day 1 figures to be pretty tame. Here's a look at his first day along with what might be on the agenda for the weeks and months ahead. By Matt Tait

The man who hired David Beaty and placed him in charge of revitalizing a barren football program no longer works at the University of Kansas. Still, Beaty insisted Monday at Big 12 Football Media Days the presence of a new boss, athletic director Jeff Long, hasn't made the Jayhawks' fourth-year coach less comfortable about his standing. By Benton Smith

Jeff Long, the University of Kansas' newly hired athletic director, made it clear at his formal introduction on Wednesday that he was determined to tackle two of the biggest challenges facing the department: rebuilding the ailing football program and dealing with an ongoing scandal in the college basketball world to which a current and former Jayhawk have been linked.