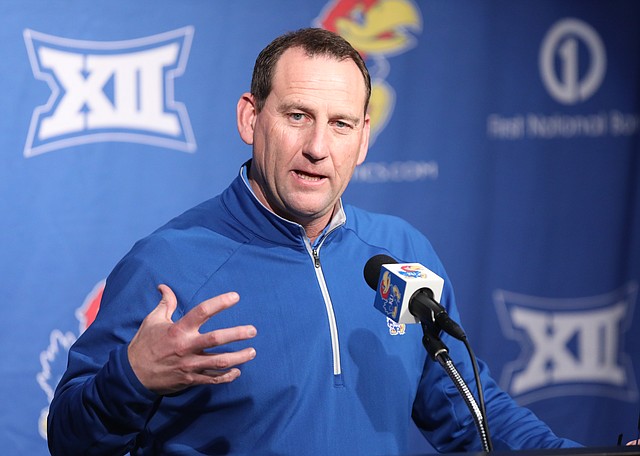 Kansas head football coach David Beaty talks about his recruits during his National Signing Day press conference on Wednesday, Feb. 7, 2018 at the Anderson Family Football Complex.
Stories this photo appears in:

As the sun was setting on his tenure as University of Kansas head football coach, David Beaty was talking about the next morning's sunrise. Somehow, that seemed fitting.

Fourth-year Kansas football coach David Beaty came to Wednesday's press conference on signing day armed with numbers. He was eager to use them to demonstrate his point that he was not putting the Kansas football program right back in the same rut that he inherited from his predecessor. By Tom Keegan

Fourth-year Kansas coach David Beaty finally got to discuss one of his favorite topics, recruiting, on Wednesday, otherwise known as National Signing Day in the realm of college football. Speaking with media members for the first time since the Jayhawks lost their 2017 season finale at Oklahoma State, on Nov. 25, capping a 1-11 season, Beaty reveled in hailing the program's newest additions. Eventually the coach also responded to queries on the presence of 11 junior college signees in a 2018 class that currently features seven known scholarship players from the high school ranks. By Benton Smith