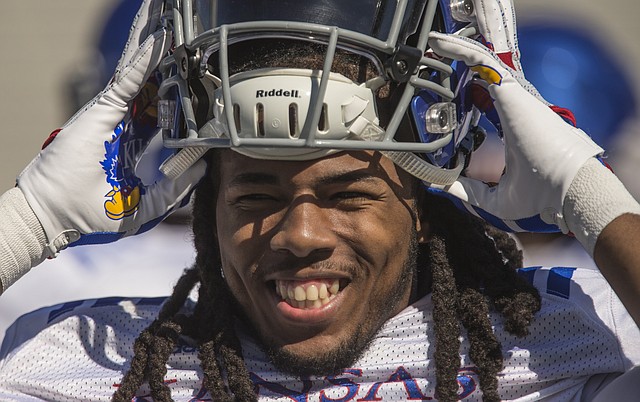 Kansas freshman cornerback Corione Harris smiles as he pulls on his helmet during practice on Monday, April 23, 2018.
Stories this photo appears in:

Familiar names on a depth chart, particularly for a football team coming off a 1-11 season, can breed contempt in a fan base. Understandable, but before jumping off the Kansas football bandwagon — or is it a unicycle? — calm down and consider a few mitigating factors.

As former prep teammates Mike Lee and Corione Harris reunited at the University of Kansas during this past spring semester, Lee appreciated Harris' situation. Entering his junior season with the Jayhawks, Lee, a safety, wouldn't judge the young corner too harshly if it took Harris some time to adapt to playing at the college level. And that's why even the KU veteran who knew Harris best walked away from spring practices impressed. By Benton Smith