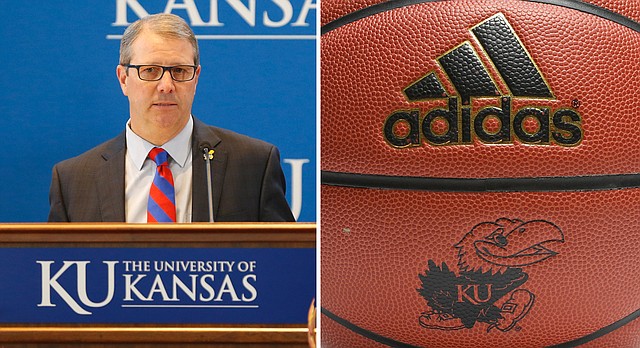 University of Kansas Chancellor Douglas Girod and a KU-branded adidas basketball are pictured in Journal-World file photos.
Stories this photo appears in:

An examination of KU's athletic department last year gave Chancellor Douglas Girod confidence that an independent review of the department isn't needed in the wake of a widening college basketball scandal, Girod said recently. But now questions are emerging about how comprehensive that examination was as KU officials have confirmed the examination that took place last fall produced no written findings or report.

University of Kansas Chancellor Douglas Girod said Friday that he doesn't plan to seek an independent investigation of the Kansas athletics department in the wake of a growing college basketball scandal.

A spokesman for Kansas Athletics Inc. stopped short Thursday of saying the department would support a third-party, public review of its recruiting practices and policies. University of Kansas Chancellor Douglas Girod has yet to answer a question about whether he thinks an independent review would be appropriate in the wake of a federal indictment that alleges a family member and a guardian of two KU basketball players are involved in a pay-to-play scheme orchestrated by an executive with Adidas, which is a partner of the KU Athletic department.