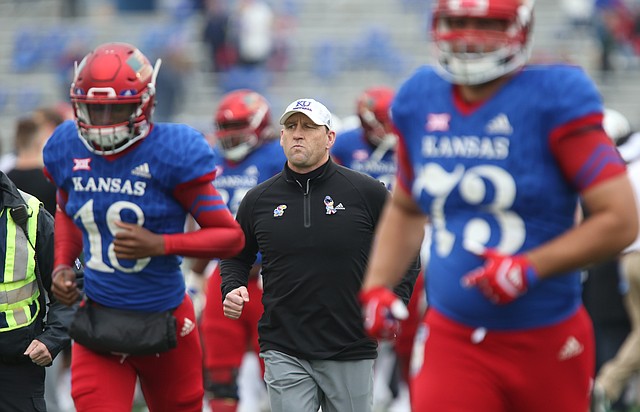 Kansas head coach David Beaty runs off the field following the Jayhawks' 38-9 loss to Baylor on Saturday, Sept. 4, 2017 at Memorial Stadium. Before Saturday's game, Baylor was winless on the season.
Stories this photo appears in:

The summer of 2017 was one of hope for Kansas football. A year later, at least for those not personally invested in the successes and failures of the team, a similar sense of interest in KU football likely doesn't reverberate much outside of the Lawrence city limits. That's just fine with David Beaty. By Benton Smith

According to Kansas football coach David Beaty, this off-season he and his staff have and will continue to confront "a lot" of areas where the program needs to improve. Beaty described one such goal as morphing the Jayhawks into "the toughest team" in the Big 12. By Benton Smith

Immediately following the Kansas football team's 58-17 loss to Oklahoma State in its 2017 season finale Saturday, Kansas athletic director Sheahon Zenger released a statement to confirm that David Beaty will remain as head coach.
By Staff Report
November 25, 2017 3:08 p.m.