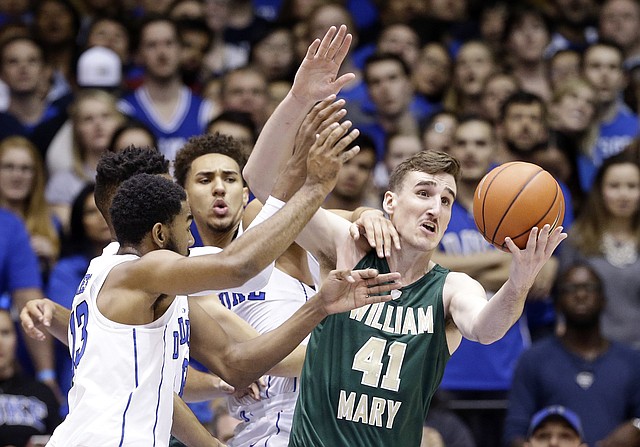 Duke's Chase Jeter, rear, Matt Jones, left, and William & Mary's Jack Whitman (41) reach for the ball during the first half of an NCAA college basketball game in Durham, N.C., Wednesday, Nov. 23, 2016.
Stories this photo appears in:

Although the former William & Mary forward himself both confirmed and explained why he was leaving to join the Kansas basketball program last week, the Jayhawks made it official on Monday with a news release announcing the addition of graduate transfer Jack Whitman. By Matt Tait

When a basketball player transfers from William & Mary to Kansas, it's not difficult to predict the questions that immediately surface, such as: William and Mary? Jack Whitman? Why Jack Whitman?

The Kansas men's basketball program added some front-court depth Tuesday through yet another transfer when William & Mary graduate transfer Jack Whitman announced his pledge to play at Kansas during his senior season.By Matt Tait