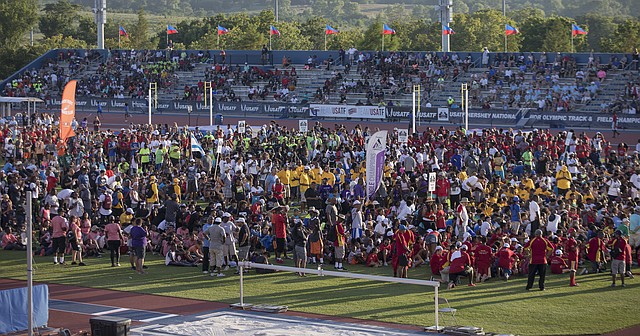 Track and field athletes stop in the infield during the USATF National Junior Olympics opening ceremony on Tuesday, July 25, 2017. More than 8,000 athletes attended the Junior Olympics at Rock Chalk Park.
Stories this photo appears in:

If Royals general manager Dayton Moore had taken the podium during the World Series parade of 2015 and announced, "We're hiring a new manager," and that was the first Ned Yost had heard of it, it would have come as no less a surprise than what happened in the wake of a successful USA Track and Field Junior Olympics event at Rock Chalk Park.

After hosting events such as the NCAA West Preliminaries in 2016 and the Big 12 Championships in May, Kansas track and field coach Stanley Redwine was looking forward to see how Rock Chalk Park would be able to accommodate the USATF National Junior Olympics. By Chris Duderstadt